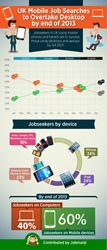 (PRWEB UK) 18 September 2013
Data recently released by recruitment expert Jobmanji demonstrates that increasingly jobseekers are using mobile devices rather than desktop computers when searching for employment. From statistics gathered by analysts at the Jobmanji website, a comparative study reveals a steady decline in the use of desktop computers in favour of tablets and mobile phones.
According to the research, in the first quarter of 2013, from January to March, the percentage of jobseekers using desktop computers fell by a striking 10 percentage points – from 69 to 59 per cent. In the same period, those searching jobs using a mobile phone increased by seven per cent, with tablet users making up the remaining three per cent.
The second quarter saw a continuation of the same pattern. Mobile phone usage for job searches rose from 29 per cent in April to 32 per cent in June, while desktop searches reduced by three percentage points from 57 to 54 per cent. During the summer months of July and August both tablet and mobile phone job searches increased while the number of jobseekers using desktop computers fell to an all-time low of 50 per cent. This is a decrease of 19 percentage points since the start of the year – and the important result for employers and recruiters to note is that half of all jobseekers now use mobile devices to search for jobs.
The future is mobile
Having collated the statistical data, Jobmanji analysts have drilled down to ascertain which devices jobseekers are using the most. At 34 per cent, Apple iPhone accounts for more than one third of jobseekers while Apple iPad is used by one quarter of those searching on mobile devices. The most frequently used Android devices are Samsung mobiles and tablets (23 per cent of all mobile devices used), while chief among others employed for job searches are HTC, Nokia, Blackberry and Google Nexus. If this pattern continues it is almost certain that by the end of the year the number of mobile job searches will have outstripped the number of desktop searches.
Available historical research suggests that mobile usage has been growing fast, year on year, with no hint of a slowdown see research 2010–2012. The extra data from Jobmanji for 2013 provides additional important and useful information and indicates that, should the growth in conversion from desktop to mobile continue at the same rate (an average of 2.375 percentage points per month) then by the end of December 2013 the number of jobseekers using mobile devices will have increased by a further 9.5 percentage points, making mobile devices the dominant job search tool, and the number of jobseekers using a desktop computer will have
reduced to circa 40 per cent.
For all intents and purposes, therefore, the evidence that people searching for employment opportunities are switching from desktop to mobile devices is both sound and convincing, and as far as employers, jobseekers and recruiters are concerned, the age of the mobile really has arrived.