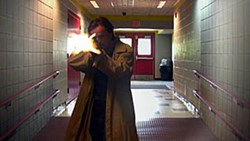 Novi, Michigan (PRWEB) September 13, 2013
The rise of active shooter incidents seems to be more and more prevalent in news headlines. Risk for an active shooter event is an ongoing peril and Mastery Technologies helps combat the danger through its newly-released training course, "Active Shooter Rapid Response." These incidents are complex, dynamic and emotionally charged; a response team must be prepared. At $19.95 a learner, Mastery's comprehensive, realistic, and effective Video On Demand course is a small cost to safeguard responders.
The "Active Shooter Rapid Response" course, originally produced by Emergency Film Group, is designed to supply guidance to those who would respond to a mass shooting incident. This training course helps learners recognize:
•Probable characteristics of an active shooter
•Basic strategy and tactics
•Roles of facility officials
The course also covers how to help control the outcome of the event, the typical length of an active shooter incident, and the likely motives or actions of the perpetrator.
Having a delay in police response, especially pertaining to containment, isolation and negotiation is not an option during high-stress active shooter events. Proper training and comprehension is essential to control the outcome of the event. In a recent article, "Addressing the Problem of the Active Shooter," it states that "patrol officers are most likely responding alone or with a partner. When responding alone, 75 percent had to take action." This statement (from Blair and Martaindale, "United States Active Shooter Events") reiterates the importance of training for responding officers to active shooter events, and the possibility of having to put the training into action.
Active shooter events are often over in just a few minutes. Immediate action is required in order to gain control and lessen the devastations of the situation. Use Mastery Technologies as the first step in supplying vital training for any employee who may have to respond to this type of situation. This course is available on Mastery.com and is available on the VOD platform.
Mastery's VOD courses contain the entire instructional presentation of a training course. All of Mastery's VOD courses include a topical index, displayed on the side of the video when not in full-screen mode. Most VOD courses end with a quiz, including feedback on question answers. Narrated quizzes may be included, as well as additional resources such as downloadable workbooks and job aids.
VOD courses provide large images which appear sharp when viewed in a normal video window. Full screen display sizes are provided, delivering clear audio and sharp video, even when projected or displayed on HDTV screens. Video On Demand titles play on all devices, including desktops, smart phones and tablets.
About Mastery Technologies Inc.
Mastery Technologies established the e-learning industry's first Training Content Network. Mastery partners with leading video content providers to co-produce the largest, standardized, workplace e-learning library available. Mastery goes beyond connecting customers with content, by pro-actively supporting both customers and content partners. In this way Mastery fulfills its mission of helping build more successful, effective and amazing organizations.