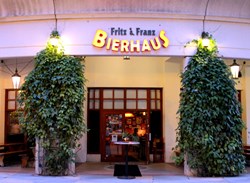 Miami, FL (PRWEB) September 14, 2013
Branches is excited to announce that it has been selected as the charity of choice for the Fritz & Franz Bierhaus' 2013 Oktoberfest! Fritz & Franz will kick off its 2nd Annual Las Olas Oktoberfest on September 20th and its 19th Annual Coral Gables Oktoberfest on October 3rd. Branches has been chosen as the main charity beneficiary for both Oktoberfest events. This truly exciting Oktoberfest will include the official German Bier keg tapping ceremonies to get the celebrations started, offer live entertainment, raffle drawings and nailing, yodeling and Beer Stein Holding contests, as well as lots of other fun events happening throughout the month.
WHEN and WHERE:
September 20th – 22nd and 26th – 29th
"Las Olas Wiesen" Lawn, next to Riverside Hotel, 620 Las Olas Blvd, Ft. Lauderdale, FL
http://www.lasolasoktoberfest.com
October 3rd – 13th
Fritz & Franz Bierhaus, 60 Merrick Way, Coral Gables, FL
http://www.miamioktoberfest.com
Oktoberfest is especially known for its customary Keg Tapping ceremony; the mayor must tap the first keg before anyone starts drinking and celebrating. This ritual will be held on September 20th at 6:00pm on Las Olas. Jim Cason, Mayor of Coral Gables, will do the honors of tapping the first keg in his city on October 3rd at 5:00pm.
Raffle tickets will also be sold for $5 per ticket or $20 for 5 tickets. Raffle prizes include a $100 gift certificate to the Fritz & Franz Bierhaus, a two-night stay at the Riverside Hotel on Las Olas and the grand prize, a 7-night cruise in an ocean view stateroom for 2 people on Carnival Cruise Lines. The drawing will take place on October 13th. A Celebrity Beer Stein Holding Competition will also take place each Sunday at both festivals on Sunday, Sep. 22nd and 29th at 4pm on Las Olas, and on Sunday, October 6th and 13th at 4pm in Coral Gables. $10 will be donated to Branches for every minute each contest lasts.
Harald Neuweg, the owner of Fritz & Franz, will be flying in top Austrian bands which will perform during the festivals:
Las Olas Oktoberfest:
Die Echt Urigen - All weekends
International Polka Band - Saturday 9/21, 12pm-4pm
Auerhahn Schuhplattlers - Sunday 9/22, 2pm only
Coral Gables Oktoberfest:
Gastein - All weekends
International Polka Band - Saturday 10/3, 5pm-9pm and 10/12, 1pm-5pm
Auerhahn Schuhplattler - Sunday 10/6, 2pm only
Coral Gables Fritz & Franz Bierhaus 10th Anniversary Party
Wednesday, 10/9
The Dana Paul Orchestra 7pm-11pm
Event sponsors are:
Fritz & Franz Bierhaus, NRG Neuweg Restaurant Group Inc., Carnival Cruise Lines, Warsteiner Beer, Riverside Hotel Ft.Lauderdale, Hyatt Regency Hotel Coral Gables, The Las Olas Company, Lufthansa, Audi Coral Springs, Audi Lighthouse Point, Coca Cola, Dachser Logistics, Casino Austria International, Lenz Moser Wine, Great Gables, Styria LLC, WDNA, Niche Importing Co., Community News, Miami Club Rum, Jägermeister, Coral Gables Chamber, Coral Gables BID, Cheney Brothers, Ft.Lauderdale Strikers, Beluga Vodka, Social Miami, Cheney Brothers, and Soccerparty2014.com
For further details about the 2013 Oktoberfest, please visit http://www.bierhaus.cc.
About Branches
For 40 years, Branches has made a positive impact in the community by delivering on its mission to serve, educate and inspire people through student, family and financial stability services. Branches provides long-term, holistic services for motivated individuals and families. We help people grow deeper and climb higher in life by building a foundation through education so they can achieve their goals and fulfill their potential. For additional information about Branches, please call 305.442.8306 or visit http://www.branchesfl.org.