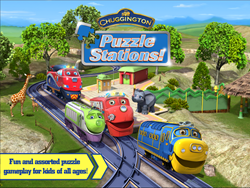 The team at Budge Studios are pros at what they do. After the success of the Chuggington Traintastic Adventures app, we couldn't wait to work with them on something new. - Dana Thacker, Digital Manager at Ludorum
Montreal, Quebec (PRWEB) September 19, 2013
Based on the popular TV series Chuggington™ which airs worldwide, Chuggington Puzzle Stations is an exciting new app for preschoolers. The fun and educational app for iPhone®, iPad®, and iPod® touch features all of the much-loved Chuggington characters including Wilson, Brewster and Koko, plus 6 of the coolest train stops in town!
The app features an assortment of classic and unique puzzle gameplay as well as exciting video clips from the popular Chuggington series. Children win collectable Chugger cards by solving 3 different types of puzzles: jigsaw puzzles, connect-the-dots and hidden objects. The educational games have 3 difficulty levels and allow children to practice reasoning skills, sequence and spatial awareness.
"We wanted to offer Chuggington fans a variety of puzzle activities, packed with great content such as video clips and rewards. Our goal was to deliver a game that kids of all ages would enjoy, with multiple difficulty levels and a dynamic gameplay that adjusts to your abilities," said Co-Founder and Creative Director of Budge Studios, Michael Elman.
"The team at Budge Studios are pros at what they do. After the success of the Chuggington Traintastic Adventures app, we couldn't wait to work with them on something new," said Dana Thacker, Digital Manager at Ludorum.
Chuggington Puzzle Stations launches on the heels of success of Budge Studios' first Chuggington app, Chuggington Traintastic Adventures.
Chuggington Traintastic Adventures

Over 2.5 million downloads across the App Store, Amazon, and Google Play
#1 in Games/Educational on the App Store in over 45 countries
Parents' Choice Award Winner 2013
Cynopsis Kids !magination Award 2013
Editor's Favorite & Best App for Kids for Trains by Appysmarts
kidSAFE® Certified
The Chuggington Puzzle Stations App is available for free with in-app purchases on the App Store for iPhone, iPad and iPod touch or at http://www.itunes.com/appstore/.
About Chuggington™
Chuggington is a contemporary, action based, energetic and vibrant CGI series for children aged 2 – 5 years. The series follows the adventures of three young trainees - Wilson and his friends Brewster and Koko – as they ride the rails and take on exciting challenges that test their courage, speed and determination. Along the way, and with help and support from a strong community of engines and people, they learn positive values and new skills empowering them to become the best trainees they can be. Chuggington is directed by Sarah Ball, who won a BAFTA award for her work as a director and writer of Bob the Builder™. Further information is available at chuggington.com
About Ludorum plc
Ludorum is a specialist in developing, building, acquiring and marketing global intellectual entertainment properties. Its first global pre-school property is Chuggington™. Ludorum was co-founded and is managed by Rob Lawes (CEO) and formerly CEO of HIT Entertainment PLC which managed a strong portfolio of children's properties including Bob the Builder™, Barney™, Thomas & Friends™, Pingu™ and Guinness World Records®, and by Dick Rothkopf (Chairman) and the co-founder and former CEO of Learning Curve, International, the company that held toy licenses for Thomas & Friends and other preschool properties.
About Budge Studios
Budge Studios leads the industry by providing entertaining apps to kids through innovation and creativity. The company develops and publishes apps for smartphones and tablets played by millions of children worldwide featuring top properties such as Strawberry Shortcake, Chuggington, Caillou, Care Bears, Dora the Explorer, SpongeBob SquarePants, and Minnie Mouse.
App Store: https://itunes.apple.com/app/id660296926
Trailer: http://www.youtube.com/watch?v=dFoSjgW-Y_I
Web site: budgestudios.com
Facebook: facebook.com/budgestudios
Twitter: @budgestudios
Copyright (C) 2010 Budge Studios. All Rights Reserved. Apple, the Apple logo, iPhone, iPod and iPad are registered trademarks of Apple Inc. in the U.S. and/or other countries. App Store is a service mark of Apple Inc.