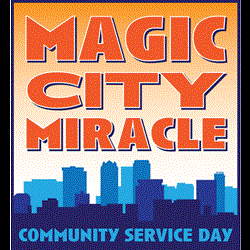 More than 1,000 volunteers participated last year, impacting 20,000 lives. We're expecting to spread even more kindness this year.
Birmingham, AL (PRWEB) September 13, 2013
On Saturday, September 29, volunteers will perform the second annual Magic City Miracle, the largest day of service across Birmingham from noon until late afternoon.
"We had more than 1,000 volunteers participating in this event last year, which impacted about 20,000 lives," said Scott Comas, event coordinator. "We're expecting to spread even more kindness this year. From bagging produce for local food banks to visiting nursing homes to painting, landscaping and light carpentry work, there are opportunities for all ages to get involved."
Volunteers are still needed at the more than 85 scheduled service events, which are listed at http://www.MagicCityMiracle.org. Those interested can go to the Web site, pick a project that they want to work on, and sign up for free. More information is also available on the event's Facebook (MagicCityMiracle) and Twitter (@mcmbham) sites. Twitter users are encouraged to use the hashtag #2013MCM.
On Sunday, Sept. 29, volunteers will meet at Linn Park, (710 20th Street North, Birmingham, 35203) between noon and 1 p.m. Parking is available in Boutwell Auditorium parking deck. At 1 p.m., the volunteers will fan out to the various worksites. Where needed, shuttle service will be provided to the designated work areas at no cost. Volunteers will receive a free t-shirt, wristband and a sack lunch. Everyone is asked to bring a non-perishable food item to benefit local food banks.
Magic City Miracle is organized by the following local United Methodist churches: Liberty Crossings, Trinity, Discovery, St. Junia, Pleasant Hill and Saint Mark. Local sponsors include United Methodist Communications, Alabama Power, Bradley Arant Boult Cummings, LLP, Serra Toyota, Patient Engagement Advisors and Hygia Health Services.
The event urges participants to Rethink Church and utilizes outreach to make a difference in the world beyond church doors. It was created by The United Methodist Church through a grant from United Methodist Communications to provide the citizens of Birmingham a way to give back to their community. However, volunteers do not have to be affiliated with The United Methodist Church, or any church, to participate.
About Rethink Church
Rethink Church, the next evolution of The United Methodist Church's "Open hearts" welcoming and advertising campaign, highlights the many opportunities available within United Methodist churches to engage with the world—from literacy programs to feeding the poor. At http://www.RethinkChurch.org, visitors may interact, learn more about the church, and search for involvement opportunities.
###