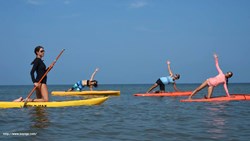 "At the paddleboard class last week we saw manatees and a huge starfish."
Naples, Florida (PRWEB) September 18, 2013
Guests of Lemon Tree Inn of Naples, Florida can enhance their relaxation and add a bit of adventure with a special offer from Bala Vinyasa Yoga Naples. Lemon Tree Inn guests enjoy a three-day pass for $80 (a savings of $20), which includes unlimited yoga, Paddleboard Yoga on Friday mornings and a mat (or paddleboard). Room rates at Lemon Tree Inn start at $89 per night depending on the time of year. To participate in the Bala Vinyasa Yoga savings call the yoga studio at 239-598-1938. To book a stay at Lemon Tree Inn visit LemonTreeInn.com.
"We are thrilled to offer Lemon Tree Inn guests the opportunity to enhance their vacation with yoga classes," says Sid Kalmans, owner of Lemon Tree Inn and Hotel Caravelle, who travels more than half a million miles per year for work, "Bala Vinyasa Yoga and their talented team of instructors offer a great program from classes for strength building and classes for kids to classes for physical and mental balance to fun classes like the Paddleboard Yoga which has been a big hit."
Bala Vinyasa Yoga Naples is located five miles, a short ten-minute drive or a scenic bicycle ride, from Lemon Tree Inn. The yoga studio offers Power, Therapeutic, and Hatha Yoga, classes for kids and, of course, the popular Friday morning Paddle-board Yoga classes. The special three-day pass is $80, which includes access to yoga classes daily, use of a mat and paddleboard, as well as park entrance for the Paddleboard Yoga class. The Paddleboard Yoga class is held on Fridays at 8:30 am at Delnor-Wiggins Pass State Park. To receive the discount, Lemon Tree Inn guests can notify the studio when they call or present their room key. For more information visit bvyoga.com.
"The Paddleboard Yoga class offers an opportunity to be part of something healthy and wild," said Angela Goodner, Studio Manager of Bala Vinyasa Yoga Naples, "At the paddle-board class last week, which is held at Delnor-Wiggins Pass beach, ranked one of the most beautiful beaches in the nation, we saw manatees and a huge starfish." A portion of the proceeds from the Paddled-board classes benefit the Friends of Delnor-Wiggins Pass State Park.
Lemon Tree Inn is a boutique hotel with a Caribbean spirit. Each hotel room, which is unique from the bed style (four poster mahogany bed to wicker sleigh beds) to the artwork, has a tropical theme including brightly colored Adirondack chairs facing the courtyard garden. Continental breakfast is served poolside and lemonade is served all day. Guests can rent bicycles and ride to the beach or the many shops, galleries and restaurants just a block from the hotel. For more information or to book a reservation, call 888-800-LEMO or visit http://www.LemonTreeInn.com.