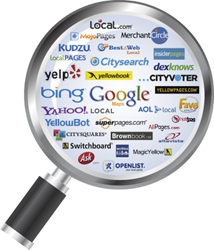 More than 43% of all Google search activity is now local.
Bordentown, NJ (PRWEB) September 16, 2013
Upward SEO announces the introduction of local marketing services for small and medium sized companies who want to improve local search results. The introductory package includes Google Places setup and optimization as well as business listings on more than forty of the nation's top local search engines including Local.com, Yelp, SuperPages, and Foursquare. Using this service, companies can publish expanded information about their business including bios, event calendars, menus, and products/services information.
This new service being offered by Upward SEO helps businesses take advantage of the significant growth in local search. According to a recent study by Search Engine Land, 43% of Google search queries are local. It is also well known that individuals using local search have a higher propensity to take action – visiting a website, making a call or reservation. Google is using citation information to validate each business and rank them appropriately in Google search results. Companies with disparities between their website information (such as Name, Address, and Phone Number), Google Places Listing, and other website references are being negatively impacted in Local Search results.
"I'm so excited about this new offering. Not only are we helping small and medium sized businesses compete on a large scale, but we're helping them cut through traditional SEO methods that are no longer valid since the latest Google algorithm update," says Upward SEO President Michael H. Fleischner.
Upward SEO's premium offering being offered in conjunction with the basic business listing service complements the online business listings by adding a custom review site that helps companies proactively manage their online reputation. Once business listings are developed and companies receive greater exposure, the custom review site ensures quality content, reviews, and information, are published and available via search engines. This protects each business from negative online reviews and damaging content.
Fleischner goes on to say, "In addition to our business listing service, we also offer custom review sites to help small businesses collect, manage, and publish reviews. This gives them a level of control over online reputation that has previously never existed. To my knowledge, we are among just a few companies offering this type of service which is so vital to online reputation management and marketing success."
More information about local business listings are available at http://www.upwardseo.com/local and companies can run a scan to determine how accurate their business information is across dozens of popular local search engines.