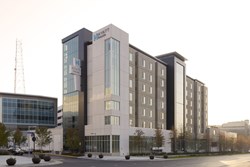 Falls Church, VA (PRWEB) September 13, 2013
Four HITT Contracting projects were honored last night by the Associated Builders and Contractors, Inc. (ABC) of Metro Washington and Virginia Chapters. The 32nd Annual Metropolitan Washington Excellence in Construction Awards were held at the McLean Hilton in Tysons Corner, VA on September 12, 2013.
The following HITT projects were recognized for outstanding workmanship:
Hyatt House, Category: Commercial ($12-20 million)
Merrifield Hyatt House is an eight story, 148-bed hotel located in the bourgeoning Mosaic District in Fairfax, VA. The 107,000 s.f. building features a restaurant/lounge, three conference rooms, exercise facilities and an outdoor swimming pool. Despite working on a tight site with six other projects simultaneously under construction, the HITT team delivered a project to LodgeWorks Partners, L.P. that boasts the latest generation design in Hyatt's portfolio of hotel properties.
Capella Georgetown Hotel, Category: Commercial/Residential Renovation ($4 million & over)
Situated in the heart of Georgetown overlooking the C&O Canal, Capella Washington, DC is a stunning example of adaptive reuse of the former American Trial Lawyers Association headquarters originally built in 1963. The project required major structural modifications to reposition the building from office space into a luxury boutique hotel. This six floor hotel houses 49 guest rooms on floors two through five, a full kitchen, restaurant and bar on the first floor, and an exclusive penthouse comprised of an indoor/outdoor infinity pool, fitness center and an exterior deck/lounging area.
Mainstay Veterinary Practice, Category: Medical Renovation
Mainstay Veterinary Practice is a new state-of-the-art, full service boutique animal veterinary practice serving Fairfax. The space provides a complete pharmacy, treatment area including dentistry, spay/neutering, surgical room, diagnostics/lab, digital x-ray room, ultrasound, EKG and grooming tub area. Keeping the comfort of the animals and owners at the forefront of the design, the office features 9' high sliding glass doors and full height glass panel walls for the dog and cat cage rooms. This enables greater visibility from pets to owners and owners to pets.
Regus Silver Spring, Category: Interiors ($35-50 sq. ft.)
The Regus Silver Spring project consists of 13,000 s.f. of office space and conference facilities located in Silver Spring, Maryland. Comprised of a business lounge, refresh bar and a reception area, the community spaces were designed to provide a vibrant and inviting gathering area for all tenants. The end result is a high-impact business hub that reinforces the Regus brand as the largest provider of executive suites, office space, virtual offices and conference facilities in the world.
The Excellence in Construction awards program recognizes the owners, architects, engineers, general contractors and specialty contractors who have provided signature building projects with a lasting effect on the Washington, DC metropolitan area. The competition serves to raise the level of construction standards throughout the industry by recognizing the area's ABC members and showcasing the results of their dedication.
About HITT Contracting Inc.: Founded in 1937, HITT Contracting has grown to be ranked among today's 100 Largest General Contractors nationwide, with offices in Washington, DC, Atlanta, Baltimore, Charleston, Denver and South Florida. Our client-focused teams fulfill any program need from a doorknob change to base building shells and complete tenant/owner fit-outs. Company-wide, HITT maintains more than 700 employees, including a skilled in-house field force available 24/7 to support clients long after initial occupancy. The HITT Way for quality and excellence defines the core of our mission and how we are structured. Teams are organized into expert market sectors, specializing in corporate base building and interiors, government, healthcare, hospitality, institutional, law firms, major projects, paint and service and technology. Complementing these market sector teams are the preconstruction, sustainable construction and subcontractor relations divisions. For more information, please visit http://www.hitt-gc.com. Follow us @twHITTr.
-###-