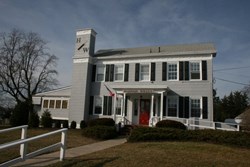 Allenhurst, NJ (PRWEB) September 17, 2013
Good service, delicious food, and a waterfront view is enough to keep customers coming back to Harpoon Willy's Tavern & Waterfront Restaurant year after year. Originally a stage coach stop located at a desolate Jersey Shore area in the 1700s, the local favorite became a popular restaurant and bar that has continued to tantalize resident's taste buds. The eatery's original name was "The Red Ranch," but current owners, Jim Scarponi, John Kitrick, and Jack Kane purchased it several years ago after the name had been changed to Harpoon Willy's.
Owner Jim Scarponi talks a bit about the food at the restaurant that keeps patrons coming back. "Most of the food is made fresh. We try not to cut corners and use fresh products. People seem to like everything on the menu. From seafood to burgers and sandwiches, people like variety. The burgers get great reviews."
Guests revel in weekly specials such as Taco Tuesdays, Wednesday Clambakes, and periodic wine dinners. Featuring a live band every Thursday, Friday and Saturday night, has helped Harpoon Willy's move up the ladder in customer appreciation. "We definitely do a lot of parties as well; they are very popular," Scarponi continues about the private party room at the restaurant.
Although it is not too far from many summer vacation spots, Harpoon Willy's draws a loyal local crowd. "We see mainly locals and seasonal locals here," said Scarponi. "We are off the tourist path so we don't see too many tourists. We don't peak in the summer and then die," says co-owner Kitrick. "We generally have steady business all year round."
"We also accept reservations so we show a lot of loyalty to local residents," said Scarponi.
While keeping an eye out on waterfront dining during the summer months, the partners are not too concerned with competition in the area. "We are always trying to change things to get better," said Scarponi. "We definitely want to continue to grow, change and keep our customers completely satisfied."
Be sure to go to the Harpoon Willy's from November 8-17th. The restaurant will be participating in the 5th Anniversary of New Jersey Restaurant Week. Visit the company's website for more details http://jerseyshorerestaurantweek.com.
Harpoon Willy's Tavern & Waterfront Restaurant is located at 2655 River Road, Manasquan, New Jersey 08736. Open seven days a week for lunch and dinner including a late night bar menu. Live entertainment begins on Thursday at 8:30 pm and Fridays at 9:00 pm. Their private room is open to the public for up to 25 guests and off-site catering is available as well. For additional information, call 732.233.8880 or visit their website http://www.harpoonwillys.com.
About Bielat Santore & Company
Bielat Santore & Company is an established commercial real estate firm. The company's expertise lies chiefly within the restaurant and hospitality industry, specializing in the sale of restaurants and other food and beverage real estate businesses. Since 1978, the principals of Bielat Santore & Company, Barry Bielat and Richard Santore, have sold more restaurants and similar type properties in New Jersey than any other real estate company. Furthermore, the firm has secured in excess of $500,000,000 in financing to facilitate these transactions. Visit the company's website, http://www.123bsc.com for the latest in new listings, property searches, available land, market data, financing trends, RSS feeds, press releases and more.