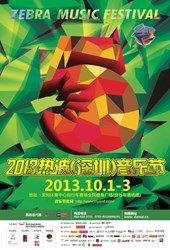 (PRWEB) September 16, 2013
MusicDish*China announced that it is a media sponsor of Zebra Music Festival's debut event in Shenzhen on October 1-3. MusicDish*China has a long history of sponsoring China's leading festivals, including Midi and more recently JZ Festival Shanghai, the biggest Jazz festival in China and Asia.
Held at the Shenzhen International Cycling Arena, ZMF will still sport a lineup of domestic stars and international acts, various games and newly themed activities as well as stunning audio and visual effects, bringing a spectacular carnival-like festival to Shenzhen music lovers during the long national holiday.
This year, ZMF Shenzhen will feature a great Djembe performance from African musicians as well as inviting audiences to try their hand at this magical instrument and create powerful beat during the festival.
There will also be skateboarding during the festival, with ZMF inviting several great skateboarders to come to this festival. As another important sport that has a close relationship with music, street dancing will also make an appearance on ZMF's stage, bringing more fashion taste to the festival.
ZMF SHENZHEN 2013
Date: 1 Oct –3 Oct
Venue: Shenzhen International Cycling Arena
Ticket Information: Please visit http://www.damai.cn and http://www.piao.com.cn or call on 400-610-3721
MusicDish*China (http://china.musicdish.com) serves as a bridge between East & West, working with major acts from Taiwan (sa. Golden Melody Award winners Jolin Tsai, Mayday, Da Mouth) and China (Shanren) while developing Western acts for the Greater China market. MusicDish*China has partnered with key events, from Midi and Zebra festivals to the Sound of the Xity conference that, in combination with its social media presence, has given it a unique brand positioning in the market. MusicDish also provide distribution/marketing and touring for Western acts such as Toulon-based Voodoo's 12 shows-9 cities China tour last spring. MusicDish*China recently signed electronic acts DJ Code and RED for international management.