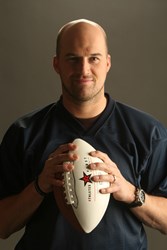 Becoming a sponsor through Compassion is one of the most impactful things you can do to help a child in need.
Colorado Springs, Colo. (PRWEB) September 18, 2013
NFL Quarterback Matt Hasselbeck is partnering with Compassion International, the world's leading child sponsorship organization, to help rescue children living in extreme poverty around the world. Hasselbeck, who will be celebrating his birthday on September 25, is asking others to give the gift of sponsorship to poverty-stricken children who also celebrate their birthday in the month of September.
"A child living in extreme poverty rarely has a reason to celebrate," says Hasselbeck. "For my birthday, September 25th, I want to see children born in the month of September be celebrated."
"I love this idea because it shows who Matt really is," says Mark Hanlon, senior vice president of Compassion's USA group. "We all know him as the football star. But this partnership shows his heart for the little ones — the children in poverty. I hope this is his biggest birthday celebration ever!"
Those who would like to participate in the campaign by sponsoring a child through Compassion International can do so by going to compassion.com/matt. There, they will be able to choose a child whose birthday is also in September.
Sponsoring a child is a $38/month commitment that helps provide Compassion's world-renowned holistic child development program that includes Christian training, educational opportunities, treatment and training to maintain health, development of self-confidence and social skills as well as key life skills and vocational training. Independent research shows that children who participate in Compassion's program stay in school longer, have a better chance of attaining white collar employment as adults and are more likely to be community leaders than their peers who do not participate in the program.
Becoming a sponsor through Compassion is one of the most impactful things you can do to help a child in need," says Hasselbeck, "please join me and help change a child's life forever."
About Matt Hasselbeck
Matt Hasselbeck is an NFL quarterback for the Indianapolis Colts. Prior to joining the Colts this year, Hasselbeck led the Seattle Seahawks to six playoff appearances and a Super Bowl appearance; he was selected to three Pro Bowls, and he played two years for the Tennessee Titans. Matt and his wife, Sarah, have three children and are teaming up with Compassion because they want to see more children reach their full potential.
About Compassion International
Compassion International is the world's leading authority in child sponsorship. Compassion revolutionized the fight against global poverty by equipping the Church to develop children out of poverty to become responsible and fulfilled Christian adults. It is the only child sponsorship program to be validated through independent, empirical research. Today, Compassion partners with more than 6,000 Christian churches in 26 countries to release more than 1.4 million babies, children and students from poverty in Jesus' name. Compassion has been awarded the highest rating for financial stewardship and transparency for 12 consecutive years by Charity Navigator, America's largest charity evaluator. For more information on the ministry, visit compassion.com or follow on twitter at @compassion.