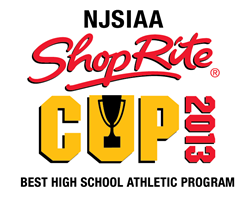 "ShopRite is honored to recognize these athletes, their commitment to their sport and their dedication to excellence." - spokesperson for ShopRite
Keasbey, NJ (PRWEB) September 13, 2013
New Jersey ShopRite stores will honor six top performing high school athletic programs this Fall with the presentation of the ShopRite Cup. Now in its tenth year, the ShopRite Cup is presented jointly by ShopRite stores and the New Jersey State Interscholastic Athletic Association (NJSIAA). Six winning schools – four public and two private – have received this prestigious award each year since the program's inception in 2004.
"Awareness of the ShopRite Cup competition has grown tremendously since we first started this program, making it a coveted prize for schools and student athletes alike," said Steve Timko, executive director of the NJSIAA. "Our participants not only learn the importance of teamwork during the season but also the benefits of hard work and determination. Whether they receive the Cup or not, all of our athletes are winners."
To win, schools must earn ShopRite Cup points and finish in the top four places for their group's state championship competition in 32 NJSIAA-sanctioned sports during the 2012-2013 school year. The ShopRite Cup also rewards bonus points for sportsmanship.
"Participation in team sports is such an important part of a young person's life," said Karen Meleta, spokeswoman for ShopRite. "ShopRite is honored to recognize these athletes, their commitment to their sport and their dedication to excellence."
Recipients of the 2013 ShopRite Cup are listed below along with the school's trophy presentation date.

Kingsway Regional High School (September 12 at 7:00 pm on the Football Field)
Villa Walsh Academy (September 14 at 10:45 am on the Soccer Field at half time)
Haddonfield Memorial High School (September 17 at 7:30 pm during Board of Ed.
meeting at Haddonfield HS Library)

Millburn High School (September 21 at 2:15 pm on the Football Field)
Christian Brothers Academy (October 3 at 1:30 pm during their afternoon assembly)
Metuchen High School (October 4 at 7:35 pm on the Football Field during half time)
The 2013 ShopRite Cup ceremonies will include presentations of ShopRite Cup trophies and ShopRite Cup banners to the winning schools to be hung in their gymnasiums. The schools' local ShopRites will also proudly display congratulatory banners announcing their achievements.
For the complete schedule or more information about the ShopRite Cup, including point totals and group standings, please visit http://www.njsiaa.org and click on "Awards."
About ShopRite
ShopRite is the registered trademark of Wakefern Food Corp., a retailer-owned cooperative, based in Keasbey, NJ and the largest supermarket cooperative in the United States. With more than 250 ShopRite supermarkets located throughout New Jersey, New York, Pennsylvania, Connecticut, Delaware and Maryland, ShopRite serves more than six million customers each week. A long-time supporter of key community efforts, ShopRite is dedicated to fighting hunger in the communities it serves. Through its ShopRite Partners In Caring program, ShopRite has donated $30 million to 1,700 worthy charities and food banks since the program began in 1999. As a title sponsor of the LPGA's ShopRite Classic, ShopRite has raised more than $24 million for local schools, hospitals and community groups. Progressive Grocer named ShopRite its 2011 Retailer of the Year and Supermarket News awarded ShopRite its 2011 Retail Excellence Award. For more information, please visit http://www.ShopRite.com.
###