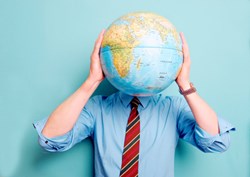 there are even reports of insurance policies, loans or employment being denied as a result of acquired search data.
Dallas, Texas (PRWEB) September 16, 2013
idcloak has released a free, anonymous web proxy which allows users to search and browse without a leaving digital trail.
Usually search engines record users' search terms against their IP address and even username, which many feel is an invasion of privacy. This point is especially true when a user's search data is compiled over a period of time: the more data is gathered, the more of the searcher's inner and outer lives is revealed.
"It's scary what our search data shows about us, and how that information is abused," says idcloak's Robin Welles. "Corporations behaviorally analyze the data to manipulate us to make purchases, but that's not even the half of it: there are even reports of insurance policies, loans or employment being denied as a result of acquired search data. And this is not even mentioning the recent discoveries about NSA's access to our search data."
idcloak's proxy is not the first of its kind, however. On how the idcloak proxy differs to existing anonymous search engines, Welles had this to say: "Privacy search engines have their place, sure, but they suffer from two drawbacks. On one hand, they do not offer choice of which country you want your search results to be drawn from. Search results differ enormously if you are in the US or the UK, for example – one of the leading privacy search engines only offers UK results, another makes them global.
"A second problem with privacy search engines is that the moment a user clicks on a link in the displayed results, their privacy evaporates, as the linked site sees their IP address. Some private engines offer a proxy, but in our tests it failed to support many sites. We put in a lot more work into making our proxy site-compatible."
To use the idcloak proxy as a private search tool, Welles recommends accessing the proxy site through a separate, newly installed browser in private browsing mode and with Ad Block Plus installed. The user must activate SSL on the proxy, not log in to any sites and not use a search engine tool bar on that browser. The user's activity – both searching and browsing – will only then be fully anonymous.
The proxy offers servers in the US, UK and Japan.
For continuous anonymous searching and browsing through other server locations, idcloak recommends its anonymous VPN proxy, due for release in two weeks' time. The service allows for continuous protection at high speeds and, in addition to the browser, anonymizes all internet programs, such as instant messages, torrents and Skype.