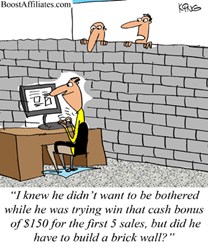 One week into our launch on ClickBank, we've already added 1500 affiliates to the Boost family.
Boston, MA (PRWEB) September 17, 2013
Software affiliates and web publishers of almost every stripe, take note: ClickBank's newest software offering, PC HealthBoost™, is proving itself a top seller—on almost every type of website.
Parent company Boost Software™ offered its flagship product on the network September 3, 2013. In less than four days, it skyrocketed to become the #1 most popular product in its category (registry cleaners), and #6 in ClickBank's overall software category.
"One week into our launch on ClickBank, we've already added 1500 affiliates to the Boost family," says affiliate manager Pete Futchko. Futchko joined Boost Affiliates to help prepare for the launch. He comes to the position with over 15 years of experience in software affiliate management.
The figure refers to the number of affiliates who have sold the software via ClickBank. Another 700+ budding affiliates have undergone the Boost Affiliates training course. The course involves general affiliate topics, as well as training in media buying, Google AdWords, media buying, outsourcing, and landing page strategies.
As part of the PC HealthBoost™ ClickBank launch, Boost Affiliates offered $150 to new affiliates who could sell five downloads of the software in seven days. According to Brock Bourne, VP of Business Development, the incentive program has been so successful they have decided to extend it.
But that isn't the only news from Bourne. "We've found out that PC Health Boost ™ converts well on just about any kind of website," he said Friday.
How well does PC HealthBoost™ convert? Product owners Amit Mehta and Peter Dunbar—former super affiliates themselves—tested advertisements, landing pages, visual creative, and other campaign elements for the software for the past three years. After maintaining a consistent 6-12% conversion rate, the pair decided to release their product on ClickBank.
PC HealthBoost™ also boasts a refund rate of around 3%, which is remarkably low for a downloadable product. They attribute this success in part to the product's build. "Safer and more stable than your garden-variety registry cleaner," according to one Brothersoft editor.
The other factor attributing to the successful launch has to do with the customer service. Boost Software™ has customer support teams available by phone and email 24/7 in the United States, United Kingdom, and Australia.
"Over the last three years, PC HealthBoost™ has shown real staying power in the marketplace," says Mehta, CEO and co-founder of Boost Software™. "This is actually pretty rare for most registry cleaners on the market."
Boost Software™ also became a Microsoft Gold Partner in Software Development in 2012.
Founded in 2009, the Boston-based company has put 3 years and $300,000 into developing and testing PC HealthBoost™. Affiliates of all levels of experience can find out more about the company's $150 bonus program, as well as 90% commissions, at BoostAffiliates.com.