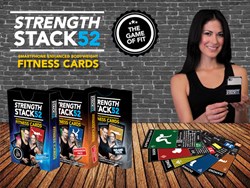 "It was intended just for my mother, but then I realized the diverse demographic of people who could benefit from them." -Sergeant Volkin
Petaluma, California (PRWEB) September 18, 2013
Launched this week on Kickstarter is Strength Stack 52, an innovative product that was never intended to be a product. Strength Stack 52 presents a unique way to stay fit, no matter where you are. Sergeant Michael Volkin invented this unique product to help his mother recover from cancer. He developed bodyweight fitness cards based on exercises he learned while stationed in Iraq for the U.S Army. Shuffling these cards allowed his mom to create fun, randomized workout combinations wherever she wanted. The cards were then shared by his friends and soon Sergeant Volkin realized that millions of people could benefit from these cards. "This product was created by accident." says Sergeant Volkin. "It was intended just for my mother, but then I realized the diverse demographic of people who could benefit from them." His friends were creating fun and exciting workout competitions which made exercising fun. Workouts can be done at home or in the park with friends and family.
Strength Stack 52 helps to:

Increase muscle strength
Lower body fat
Have access to millions of portable workout combinations
Increase energy
Strengthen and stabilize your core
Strength Stack 52 allows you to get a great workout with minimal space requirements and with no equipment needed.
Each card is organized by skill level, numbered in order of difficulty and suited for playing games. The most innovative aspect of Strength Stack 52 is the QR code. When scanned with any smartphone, a video of the exercise on that card will play, so there is no guessing as to the proper way to do the exercise.
"It's unbelievable. I have been struggling with my weight issue for so long but with Strength Stack 52 I started seeing results in a matter of weeks. The Stack not only helped me to lose weight but made me strong and lean. The difference between this product and the others I tried is competition. Strength Stack brought out my competitive nature and allowed me to push harder, which burned more calories than I ever had before." Brian Norelli, Los Angeles (Strength Stack 52 customer).
Dozens of full body work out games have been invented, or you can invent your own games.
Media Contact:-
Name: - Michael Volkin
Phone Number:- (707) 847-6066
###