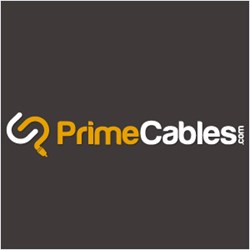 (PRWEB) September 16, 2013
PrimeCables.com, wholesaler and a retailer of custom cables and accessories for home theater, networking, professional studios, and more has announced the addition of a new product for all their customers. The Micro USB to HDMI® Mobile High-Definition Link (MHL) Adapter sends the audio and video signals through the micro USB connector and converts it to an HDMI® signal for use on HDTVs. The signal remains in digital format throughout the entire transmission and conversion process, so no quality is lost.
A new standard for use with tablets and smartphones, this adapter allows users to connect their MHL device, such as an HTC EVO 3D or Samsung Galaxy S3, etc. to their high-definition TV. The Micro USB to HDMI® adapter supports all video resolutions, including 1080p, up to 8 channels of audio (for 7.1 surround sound) as well as 3D video and HDCP media protection. It is compatible with several mobile devices such as the HTC EVO 3D that can supply sufficient power from their internal batteries to drive the adapter. For others devices, or in the event a users wants to charge their device while using the AV output, they can plug their charger into the micro USB port on the side of the adapter.
More information about this product including a detailed description and specifications can be viewed online at http://www.primecables.com/p-316190-cab-8675-micro-usb-to-hdmi-mhl-adapter-black These MHL adapters are just one of the latest products that the company has added to its growing inventory. PrimeCables.com strongly recommends the use of minimum 24 AWG HDMI cables, or cables with Redmere Technology, when connecting a device, such as this adapter, between the source and destination devices to ensure minimal signal loss and maximum High Speed signal reliability.
PrimeCables.com works closely with manufacturers to maintain great quality while keeping costs under control, and to develop innovative products that help make the installation and connectivity process simple. Available directly to consumers and to resellers, PrimeCables.com has a large volume of products in stock ready to be shipped at any minute throughout the Canada and USA because of their business relationship with Canada Post and Purolator. PrimeCables.com also offers exclusive online tools and resources like the Cable Finder Connection Wizard that simplify the process of identifying and finding the right part.
About PrimeCables.com:
PrimeCables.com specializes in HDMI Cables and other Audio Video Accessories. They offer a variety of products such as Network Cat 5, Cat 6& Cat7, HDMI, SVGA, DVI, USB, FireWire, Fiber Optic, Security, Computer, Apple, and Audio cables as well as Speakers, Cable Testers and Organizers, and wall plates. They deliver remanufactured cables, adapters, USB cables, and cable accessories from both their Montreal and Vancouver warehouses.