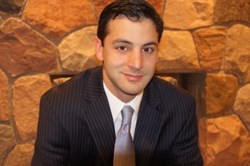 Southfield, MI (PRWEB) September 17, 2013
Ari Fischman has expanded the services and resources of The Fischman Insurance Group by becoming a financial adviser with Eagle Strategies LLC.
Eagle Strategies LLC is a Registered Investment Adviser and an indirect, wholly owned subsidiary of New York Life Insurance Company where he is a licensed agent, specializing in holistic and comprehensive wealth management services. As a financial adviser with Eagle Strategies, Mr. Fischman is able to provide portfolio management services tailored specifically to the needs of individual clients or businesses; objective, risk-based financial planning; and access to a customized web-based personal planning tool called [Wealth Management Solution that allows for a seamless yet sophisticated client experience.
Mr. Fischman also maintains an affiliation as a Member Agent with The Nautilus Group®, a Dallas-based service of New York Life Insurance Company. The Nautilus Group is staffed by an elite team of experienced professionals with credentials in law, taxation, accounting, business, insurance, finance and philanthropic planning. This premier team is among the finest in the industry, providing dedicated support in business and estate planning. New York Life Insurance Company, its subsidiaries, employees and agents do not offer tax, legal or accounting advice. Please consult your own tax, legal our accounting professional regarding your particular situation.
Through these relationships, Ari Fischman has solidified The Fischman Insurance Group's commitment to providing the tools and resources, and top-notch professional services to its clientele.
ABOUT MR. FISCHMAN
On a person note, Mr. Fischman is a member of the National Association of Insurance and Financial Advisors and is a 6 year Million Dollar Round Table (MDRT*) member and a two-time Top of the Table qualifier. Mr. Fischman has been in the industry for 12 years, having worked as an insurance agent in the New York City and Southfield, Michigan areas. Mr. Fischman has a bachelor degree from Queens College, and is married with three young children.
The Fischman Insurance Group is not owned or operated by New York Life Insurance Company or its affiliates. *MDRT is widely recognized as the standard of excellence in life insurance sales performance.