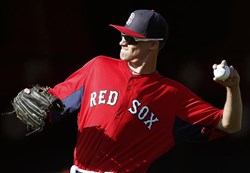 Lee has been a tremendous help in guiding me through this last year of learning the training industry.
New Castle, Indiana (PRWEB) September 24, 2013
When Trey Ball, left-handed pitcher and outfielder from New Castle High School (New Castle, IN, population 18,000+), was recently drafted 7th overall by Major League Baseball's Boston Red Sox, Lee Taft felt a source of pride. Lee's system and associate – Ty Terrell of True Athletic Development - were instrumental in preparing Trey for his baseball success.
Terrell learned about multi-directional speed and sports performance from Lee (a.k.a "The Speed Guy") and credits Lee with helping him get a great start as a sports performance trainer. The two continue to have a mentoring relationship.
"Lee is a great teacher and sports performance trainer. Most of what I have learned is from him. I couldn't have helped Trey become all he has become without Lee."
"When looking at Trey, it is obvious to see that he had a great start genetically. Both parents have athletic backgrounds and are blessed with good height, thus setting Trey up to be a gifted 6'6" athlete. However, Trey didn't take his natural gifts for granted and worked hard to maximize his natural abilities and reach his full potential."
"Trey was consistently in the top 3 speed-wise in every scouting combine he attended. There are lots of tall, long athletes that never reach their full potential. Trey continually works to get the most out of his ability – and I believe we are just seeing the tip of the iceberg."
Trey was further honored as the 2013 American Family Insurance ALL-USA Baseball Player of the Year.
While Taft and Terrell both teach sports specific training, they both agree the foundation for it all is proper movement. "It will be very difficult for athletes to reach elite levels if they don't move well. They will be hampered, or worse, injured, by their inability to meet the demands of faster, more-skilled competition," says Taft.
Terrell adds one more insight into the way Taft works with coaches and associates, "I have been interning with Lee for about a year now and am making the transition to training athletes full time. Lee has been a tremendous help in guiding me through this last year of learning the training industry. He is always willing to put extra time in the gym as well as being accessible for me to ask questions. His passion to improve the health and fitness level of those around him shines through in his work."
To learn more about proper movement and multi-directional speed training, visit http://www.leetaft.com.
Lee Taft, known to most simply as "The Speed Guy," is highly respected as one of the top athletic movement specialist in the world. For the last 25 years, he has devoted his time training multi-directional speed to all ages and ability, as well as mentoring top performance coaches and fitness professionals all over the world.