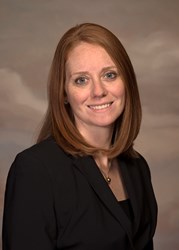 Richmond, VA (PRWEB) September 17, 2013
Brooks Adams Research (BAR) has selected Ashton Harris to serve as a Senior Research Analyst. Harris, the former Manager of Lawyer Resources and Development at Hunton & Williams LLP, returns to the firm after nine years of practicing law, most recently in the Real Estate Investment Trust and corporate finance sectors.
"We are excited to have Ashton back at Brooks Adams Research," said BAR CEO Connie Mattox. "Ashton's leadership and professionalism, as well as her extensive knowledge of senior living, and corporate and real estate finance and law, will be key in her work with our clients as well as in the development of strategy internally."
Ashton's responsibilities with BAR will include market research for clients consisting of market feasibility and demographic analyses, mapping studies and competitive profiles; internal strategic planning initiatives; and working to grow BAR's client base. Ashton's range of capabilities enhances an already strong team and her contributions will assist the organization as it works with an ever-expanding client base nationwide.
"I am excited to be returning to Brooks Adams Research and I hope to increase business development efforts and inform internal strategy, while also serving BAR's current clients. BAR has a talented group of people on board and I hope to continue to build momentum for the company," said Ashton. "This is an exciting time to be a part of Brooks Adams Research and I look forward to joining this team."
About Brooks Adams Research
Brooks Adams Research, an affiliated research company of SB&A Integrated Marketing, offers clients a full spectrum of quantitative and qualitative research to track changing consumer preferences and trends. Our research company employs numerous data resources to provide the most accurate analysis of information.
Informed by extensive experience in the senior living field, our research services allow us to ask the right questions—and find real answers backed by carefully calculated data. Brooks Adams Research has also developed a panel of more than 130,000 consumers who can offer rapid and specific information to help clients make smart marketing decisions. For more information, call 804.649.3731 or 866.680.3704, or visit http://www.BrooksAdamsResearch.com.
About SB&A Integrated Marketing
SB&A is an integrated marketing agency in Richmond, Virginia, offering full-service advertising, film and video production, interactive development, public relations, turnkey sales management and research. The agency specializes in four key categories: senior living, real estate, economic development and business-to-business/business-to-consumer. For more information, call 804.649.3704 or visit http://www.SBandA.com.