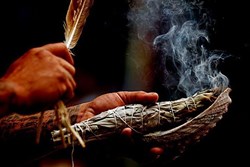 Canaan, VT (PRWEB) September 13, 2013
Native American cultures are celebrated for their deep reverence for the Earth and their spiritual understanding that all beings are living expressions of the Divine. Every living creature is an integral part of the whole of creation and that wisdom can open our eyes and hearts to the richness of life itself. We celebrate the wisdom handed down to us from those who have gone before and have given us the tools for greater understanding and awareness.
The experts at The New Age Source have selected these Native American inspired products to share with you in an effort to honor native spiritual traditions and keep them growing.
Dream Catchers: In Native American tradition, the dream catcher is used to impart knowledge and wisdom to the dreamer. When a dream catcher is hung near your bed and allowed to swing freely, it is said to catch and trap negative dream influences, allowing positive experiences to flow down to the dreamer. Any negative energies captured are burned away when the morning sun strikes the dream catcher's webbing.
Smudge Sticks: Smudge sticks are used for purification rituals. They can be used to cleanse people, places and even objects of negative energy, restoring harmony and improving energy. In Native American tradition, it is believed that smudging cleanses, purifies and promotes healing at a spiritual level, connecting us to both Earth and spirit.
Sweetgrass Braids: Many Native American tribes use sweetgrass during prayer. The sweet scent of the grass is said to attract positive energies and spirits, making it an ideal way to initiate a ceremony or ritual. Many times it used after smudging, the sage cleanses and purifies, while the sweetgrass attracts and welcomes positive spiritual energy.
Incorporating these traditional items can enhance your own spirituality and draw you to deeper wisdom and understanding.
To view more offerings from The New Age Source visit http://www.thenewagesource.com.
About The New Age Source:
The New Age Source is a leading retailer of high quality metaphysical products. The New Age Source strives to offer each customer personalized inspiration to assist them on their path to inner peace and healing. The New Age source offers a variety of Native American inspired products that also make excellent gifts. Enhance your spirituality with top-quality ritual tools including smudge sticks, dream catchers and sweetgrass braids.