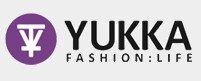 We're extremely pleased to be able to offer our customers such a unique and exciting range of fresh Criminal Damage stock, since the brand is very hot in top urban fashion circles.
(PRWEB UK) 14 September 2013
Having a leading UK reputation for retailing an extensive range of premier urban clothing, Yukka is set to impress yet again with their latest stock from the ultra-cool Criminal Damage brand.
Criminal Damage Clothing springs from Whitechapel, in the street-smart heart of East London. The brand was established in 1991 and rapidly earned a name for itself with a line that took timeless retro fashions of the past and transformed them into something completely fresh.
Today, Criminal Damage is firmly established among the stellar ranks of urban fashion – their clothing is regularly worn by the likes of Beyoncé, Jay-Z and other trend-setting celebrities, particularly in the music industry where the brand has become a stage staple.
Criminal Damage is known for tapping innovatively into every urban fashion trend before it breaks into the main stream, while adding their own unique flair to invent something hip and fresh at every turn. Their collection ranges from dark and edgy styles to the bright and bold, spanning wild prints and loud graphics as well as the classic and understated. In addition, their clothing always get the thumbs up from discerning customers for having an excellent fit and savvy detailing such as breast pockets and multi button cuffs.
The brand is further known for their creative strategy – Criminal Damage designers work under minimal constraints, allowing them the freedom to produce provocative, eye-catching clothes that never fail to impress with their effortlessly cool urban appeal.
Summer 2013 highlights of the Criminal Damage collection include a range of tees, sweats, hoods and shirts that boast stunningly original custom prints. The brand is also currently creating an edgy women's collection that boasts a cutting-edge street feel.
New stock from Criminal Damage now retailing at Yukka's website and Bradford outlet is certain to get the attention of the urban fashion conscious. Short sleeve tees feature larger than life prints, such as the Flawless T-Shirt, the Yen Dollar Pound T-Shirt and the Roman T-Shirt – all on offer for only £30.
Gearing for autumn and winter, Yukka now has the Criminal Damage Ruthless Jumper which makes a strong impression with its roaring leopard print, while the Criminal Damage Paris Jumper is both stylish and dangerous with a uniquely sexy design on a black background.
Founder of streetwear specialist Yukka, Robby Sur, commented on their much anticipated new merchandise: "We're extremely pleased to be able to offer our customers such a unique and exciting range of fresh Criminal Damage stock, since the brand is very hot in top urban fashion circles. This addition is yet another step in our on-going mission to offer nothing but the best and brightest in hip streetwise clothing."