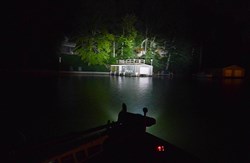 Listening to our consumers' needs and wants and then exceeding their expectations.
Phoenix, AZ (PRWEB) September 13, 2013
Rigid Industries LED Lighting, the world leader in forward projecting LED lighting via its patented optics systems and torture-tested housings, releases four new products. These new products include the first of its kind Trolling Motor Mount Light Kit which helps boaters keep their hands on the wheel for safety first to the incredibly versatile Suction Cup Mount Kit which allows change of application anytime you need light in a different area.
"Listening to our consumers' needs and wants and then exceeding their expectations through innovation and versatility is what this launch of new products encompasses and what Rigid Industries does best," says Dave Davis, VP of Sales for Rigid Industries.
The Rigid Industries® Trolling Motor Mount Light Kit is the ultimate spotlight for your boat. The SR-M2™ Driving light will provide more than enough light for those early morning boat launches or late night fishing excursions. Constructed of PA66 Glass Filled Nylon, the mounting kit replaces the original diversion plate mounted on the nose of the Fortrex® trolling motor. An amber lens cover is included for use in fog or rain.
The Suction Cup Mount features 3 ultra-strong suction cups installed on a powder coated 304 stainless steel plate and comes with a 15' Harness which has a cigarette lighter plug with switch, two deutsch plugs at end. The Suction Cup Mount kit will allow for temporary installation of two SR-M™s/ SR-M2™s or one SR-Q™/SR-Q2™. Mount this light to the side window of your car while fixing a flat, use it on the side of your boat for night fishing, or stick it to the side of your trailer to set up camp. Versatility and convenience when you need it, where you need it.
Rigid Industries now offers our compact, single row lights with ultraviolet output for your specific application. UV Lights are used while fishing to be able to see your florescent line above water. The UV light illuminates the fishing line so you can see when it twitches or jumps when a fish bites.
The new Angled Flush Mounts work with our D-Series®, SR-M™ and SR-Q™ lights which allows these compact lights to be recessed into surfaces while turned to a 15º angle. Up, down, left or right, Angled Flush Mounts are the customized accessories all industries have been waiting for.
These four new products are available starting Monday September 16, 2013 and can be found through our distributors, authorized dealers of Rigid Industries products and on the web at http://www.rigidindustries.com. Excellence in Innovation is the Rigid Industries way.
About Rigid Industries:
Thanks to its unparalleled patented Hybrid and Specter optics and its torture-tested housings, Rigid Industries® is a world leader in the forward projecting LED lighting industry. Rigid Industries ranked 150th on the Inc. 500 list for 2013 and ranked as the fastest growing LED lighting manufacturer in America. Rigid LED lighting products can be used in a plethora of applications across industries such as: agriculture, construction, emergency response, industrial, marine, military, mining, and, of course, off-road and power sports. Rigid Industries® is committed to providing top-notch innovative technologies and always guarantees a quality product which has been designed, engineered, and assembled in the USA. For more information and a comprehensive list of products, visit http://www.rigidindustries.com or follow the company on Facebook, LinkedIn, and Twitter.