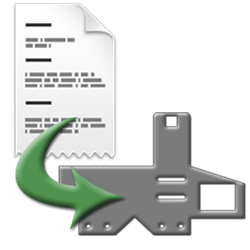 This software solves the biggest problem holding fabricators from updating their outdated CAM systems.
Englewood, FL (PRWEB) September 16, 2013
Merry Mechanization, Inc. (MMI) recently released its premium reverse engineering sheet metal fabrication software, NC ReadBack (NCRB). According to a spokesperson from MMI, "This software solves the biggest problem holding fabricators from updating their outdated CAM systems. It's not unusual for fabricators to discard original CAD files after programming their parts. Let's face it, updating an old parts library is overwhelmingly hard work. NCRB changes that."
NCRB solves these and other problems associated with parts files by reading the part's NC code and tooling data. It reverse engineers the part, recreates its geometry, and creates a modern DXF file that is compatible with all major CAD/CAM programs. Instead of manually reverse engineering parts, fabricators can use NCRB software to do it automatically.
"NCRB can be used with existing CAD/CAM software, as a standalone tool, or with our SMP/IS solution," the spokesperson explained. "It really shines with SMP/IS because the two products work seamlessly. First, NCRB converts the NC codes and tooling data and exports the resulting DXF files to SMP/IS. From there, SMP/IS takes over by automatically punching or cutting the part, gridding it on the sheet, optimizing it, and posting the NC code."
If a single NC code contains multiple parts on a sheet of metal, then NCRB will display all of the individual parts. From there, the user can select one or multiple parts to track. Each part on the sheet is then separated and exported as an individual DXF file. In addition to handling multiple parts, when NCRB is used with SMP/IS it can convert NC code from any brand machine to another; code to CAD to code. For example, from an Amada machine to a TRUMPF or from a Murata (formerly Wiedemann) to a Strippit. This allows machine shops to avoid reinventing the wheel on parts that were already programmed on a different machine.
The spokesperson also said that NCRB is 100 percent accurate and designed for punching and cutting machines. "Whether you need to reverse engineer one part or thousands of them, NCRB will save you a great deal of time."
About Merry Mechanization, Inc.
Founded in 1979, Merry Mechanization, Inc. is the creator and marketer of Sheet Metal Program / Industry Standard (SMP/IS) software. SMP/IS is the fastest and most accurate feature-based 3D or 2D modeler available and is used by professional sheet metal fabricators around the world.
Merry Mechanization, Inc.
333A South Indiana Avenue
Englewood, Florida 34223
1-800-375-1788