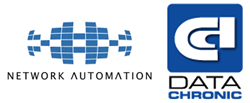 This partnership creates a tremendous opportunity for CRM administrators to bolster their productivity significantly while saving a great deal of time and money in the process.
Los Angeles, CA (PRWEB) September 24, 2013
Network Automation, the award-winning IT and business process automation software provider, today announced its partnership with DataChronic, a leading service provider specializing in IT consulting, software integration, and business process automation, to reveal a comprehensive solution supplementing DataChronic's eTicket system with Network Automation's AutoMate BPA Server 9 to further advance its customer service operations. This innovative collaboration will enable DataChronic's customers to effectively direct, manage, and deploy CRM tasks in a quick and productive manner.
The eTicket system consists of a web-based ticketing system to facilitate data entry and multiple app regulations on an interface used by customer service operators. By incorporating AutoMate BPA Server 9 into this existing system, it reduces repetitive tasks and maximizes productivity within the eTicket database, adding the power of automation through the user input simulation technique.
This complete solution offers automation for:

Performing operations on multiple apps by automatically using interactive user input simulation
Exporting from main source apps every 15 minutes
Importing exported data directly to the eTicket database
Producing real-time daily reports
Sending emails using prebuilt and customized templates
"AutoMate is the very best automation platform out there, and we thank Network Automation for continually improving its products and striving to create a more efficient way to handle IT and business processes," said Marco Raja, IT Manager, DataChronic. "This is evident with the latest version, AutoMate BPA Server 9, which provided us with the capabilities to streamline our eTicket system. We are very proud to be one of Network Automation's Italian business partners and we look forward to working collaboratively with them to further utilize AutoMate's technology and build innovative solutions again and again."
"Network Automation is very excited to be partnering with DataChronic to enhance the eTicket system," said Frank Pacheco, VP of Channel Sales, Network Automation. "The incorporation of our AutoMate technology with DataChronic's software integration capabilities allows us to offer a valuable and efficient solution for customer service operators. This partnership creates a tremendous opportunity for CRM administrators to bolster their productivity significantly while saving a great deal of time and money in the process."
About DataChronic
DataChronic's mission is to assist our clients to increase their productivity of their enterprise. The search for productivity recovery areas in internal and external operational processes (customers and suppliers) becomes, thanks to the experience and knowledge computing, repetitive processes automation (automation processes), integration of information flows between departments and business units (Workflow Management), business intelligence (Operational Intelligence) to provide the correct information to the right people when you need them. The increase in the productivity of your company, bringing our technology to the benefit of your brand and your Customers. The computerization of a company represents a delicate moment and an obligatory path to reach the objectives of competitiveness on the market today. DataChronic, as a service provider, has to support its customers on a global scale by offering consulting services, development, integration and management. The tenacity, the passion and the capacity for renewal that we put in will help you achieve success.
For additional information, please visit http://www.datachronic.com.
About Network Automation
Network Automation, Inc. is the mid-market leader in automation solutions that streamline and integrate business processes without expensive programming. Founded in 2004 and based in Los Angeles, the company provides business process automation software to more than 8,000 small, mid-market, and Global Fortune 1000 clients across 60 countries. The firm's AutoMate and AutoMate BPA Server platform span automation development, deployment, and management with a drag-and-drop environment that substantially reduces the total cost of the automation lifecycle. Common uses include application integration, job scheduling, automated FTP, batch processing, automated testing, data transformation, automated scripting, automated reporting, and more. Network Automation's customers include companies from a wide range of market sectors including health care, financial services, logistics, and many regional, state, and federal government offices.
For additional information, please visit http://www.networkautomation.com.