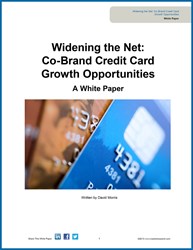 Rockville, MD (PRWEB) September 16, 2013
Packaged Facts consumer survey results show that the percentage of consumers using co-branded/affinity credit cards has fallen from 55% to 43% from 2009 to 2013. But while hundreds of smaller and less profitable co-brand programs have been eliminated, more than 120 significant co-brand credit card partnerships remain.
For every 100 people using a credit card branded with the American Express, Discover, Visa, or MasterCard logo, there are presently 58 co-brand/affinity card users.
In Widening the Net: Co-Brand Credit Card Growth Opportunities you will learn:

How consumer confidence has improved as credit card debt dropped 15% from its peak in 2009
How American Express and JP Morgan Chase gained market share between 2008-2012 by enhancing credit card programs targeting the affluent
How interest rates, spend limits & fees were an important consideration in 74% of credit card users' decisions to choose their last co-brand/affinity card
This White Paper is written by David Morris, the same analyst who wrote Packaged Facts' latest market research report entitled Co-Branded and Affinity Credit Cards in the U.S., 4th Edition.
To help industry participants navigate the evolving market for co-branded/affinity cards, this White Paper analyzes co-branded/affinity credit card program features, benefits, retail card strategies and growth trends among bank and non-bank issuers.
To download the White Paper, go to Widening the Net: Co-Brand Credit Card Growth Opportunities.
About MarketResearch.com
At MarketResearch.com, we provide consumer research and business data to guide you through the complex and dynamic business world in which we work. We are analysts and account managers, writers and publishers and we all have the same goal in common – to help you better understand your customer, market and competition; and increase market share to help drive your business growth.
Packaged Facts, a division of MarketResearch.com, publishes market intelligence on a wide range of consumer market topics, including consumer goods and retailing, foods and beverages, demographics, pet products and services, and financial products. If you are interested in a fully searchable database solution, which allows you to download only the sections or tables of reports you prefer, take a look at our Knowledge Centers.