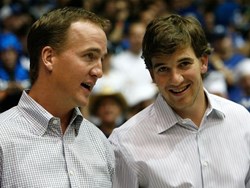 Denver, CO (PRWEB) September 14, 2013
One week into the regular season, and things are already heating up. In this year's opening game, flame-throwing Peyton Manning tossed a record-tying seven TD passes to defeat the defending Super Bowl champion Baltimore Ravens 49-27.
Brother Eli had a mixed opening day, losing to the Cowboys 36-31. Despite three turnovers, he did complete 22 of 31 passes for 285 yards and three touchdowns, almost leading the Giants all the way out of a 27-10 hole.
This weekend, the buzz is Manning Bowl III. The brothers, both future Hall of Fame quarterbacks, are facing off for the third time in their careers. It's Peyton, the experienced older brother with all of the NFL QB records against Eli, the talented younger brother with two Super Bowl wins. That's one more than Peyton.
But, things haven't gone too well for Eli the first two times they've met. In Manning Bowl I in 2006, Eli was still an erratic young quarterback, although he did have an NFC East title already under his belt. He hung with big brother, hitting 20 of 34 passes for 247 yards and two TDs. But the Giants lost, 26-21.
In a rematch four years later, Eli was a championship quarterback, but not yet an elite one. In a terribly off day, he completed only 13 of 24 passes for 161 yards, as the Giants were crushed 38-14. So now, in Manning Bowl III, it appears that it is either `the third time's a charm' or `three strikes and you're out'.
"While the Manning matchup has increased ticket sales for both the Denver Broncos and New York Giants, several other teams are seeing high trending ticket sales as well," said Felina Martinez at online ticket marketplace BuyAnySeat.com.
"Today's top sellers also include the Dallas Cowboys, San Francisco 49ers, Houston Texans, Detroit Lions, Minnesota Vikings, New York Jets, Miami Dolphins. Philadelphia Eagles, Buffalo Bills and Cleveland Browns.
"That's why we're proud to offer sports fans the most comprehensive and continuously updated selection of sports tickets online, with a worry-free guarantee to protect their purchase," said Martinez.
"To access the total roster of NFL Football tickets now available, customers can go to BuyAnySeat.com and click on NFL Football – then select their team and their tickets," said Martinez.
Sunday's game could be the last time the Mannings meet in the regular-season. The Broncos and Giants play again in 2017, a year after Peyton's current five-year contract expires and when he would be 41 years old.
A chance to meet in the Super Bowl in their hometown of New Orleans last season was spoiled. The Giants missed the playoffs, and the Broncos were upset by the Baltimore Ravens. So what about a Super Bowl meeting this year in Eli's home stadium?
"That's a long way away," Peyton said after Denver's season-opening win against the Ravens. Regarding the upcoming Manning III game, he said: "You do take a moment to realize that it is special. But once the game gets started, all week the focus is on their defense, and you can go out there and just play," he said.
This year's regular season runs from September 5 through December 29. The season will end with Super Bowl XLVIII on Sunday, February 2, 2014 at MetLife Stadium in East Rutherford, New Jersey.
To shop for discount NFL Football tickets, visit BuyAnySeat.com.
About BuyAnySeat.com: An online ticket marketplace, BuyAnySeat.com connects sports, theater and other live entertainment fans to an extensive network of ticket sellers worldwide. The site's simplified listings and navigational tools enable shoppers to easily locate, compare and purchase inexpensive, discounted or lower-priced tickets to virtually all advertised sports and entertainment events around the globe.
The ticket marketplace, which is PCI-compliant and Norton Secured, also provides customers with a complete Worry-Free Guarantee on all ticket purchases. Based in Denver, Colorado, BuyAnySeat.com is a subsidiary of Denver Media Holdings. For more information, please visit http://buyanyseat.com.