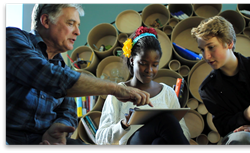 Los Angeles, CA (PRWEB) September 16, 2013
GameDesk (http://www.gamedesk.org), named one of Fast Company's "Top 10 Most Innovative Companies in Education" with funding and support from AT&T has created Educade (http://www.educade.org), a revolutionary portal that meets the needs of teachers and parents everywhere by providing the largest online library of free, ready to use lesson plans paired with engaging and innovative learning tools.
"We are very excited to share our work and community movement through Educade," said Lucien Vattel, Founder, CEO and Executive Director of GameDesk. "There is a new world of educational ideas and tools expressed within this site from thought leaders and educators all over. I hope folks will come explore, create, and join us in the future of learning."
Educade provides a one-stop shop for K-12 teachers and parents seeking to understand how to effectively use 21st century teaching tools, such as apps and games, as well as low and no tech tools that focus on hands-on making. Every lesson plan created or curated by GameDesk is aligned to the Common Core and Next Generation standards for English language arts, math and science for maximum curriculum support. Both teachers and parents can easily find what they need by grade level, subject matter, device type and technology level. Other education professionals can also add original content to the site and engage in conversations with the community to generate awareness for innovative models of teaching and technologies.
"Educade is a catalyst for radical change in the way we approach education," said Beth Shiroishi, vice president of sustainability and philanthropy, AT&T. "We want to help more students graduate high school ready for college and careers, and the Educade portal will support that goal by bringing together high quality entertainment with high quality education in a way that reaches students and has measurable impact on performance."
The support for Educade is part of AT&T Aspire, AT&T's $350 million commitment to education. With more than 1 million students impacted since its launch in 2008, Aspire is one of the nation's largest corporate commitments focused on helping more students graduate from high school ready for college and careers.
The site celebrates teachers' expertise and first-hand knowledge of students, and equips them with the tools and community support to maximize their impact on student learning. Educade creates a bridge between traditional teaching and what is engaging our youth today; by effectively applying the tools that are second nature to students in the classroom, educators are able to convey difficult concepts and prepare students for success, including those most at risk of dropping out.
The robust compendium of lesson plans is available at http://www.educade.org, where everyone can make their own contributions and share them with the world.
For updates on Educade, like us on Facebook or follow us on Twitter @Educade.
Download assets for Educade at https://www.dropbox.com/sh/wfek1j8syygbtsa/_EBaR1Mvcw.
About GameDesk
Named one of Fast Company's "Top 10 Most Innovative Companies in Education", GameDesk is a transformative 501(c)(3) nonprofit education ecosystem with a mission to develop the next generation model of education, revolutionizing the way students learn by embedding academic content and assessment into hands-on experiences, digital games, and simulations. Using the most advanced learning tools and methods, GameDesk transforms the learning environment and increases academic success with a mixture of cutting edge R&D, user and evidence centered design, content creation, curriculum development, professional development, and engaging popular technology. As a dedicated team of innovators, educators, game designers, engineers, inventors, administrators and students seeking a better tomorrow, GameDesk aims to catalyze a major shift in the way society thinks about education and inspires everyone to become part of the movement to make serious learning fun.
For more information, visit http://www.gamedesk.org, like us on Facebook or follow us on Twitter @gamedesk.
About Philanthropy at AT&T
AT&T Inc. is committed to advancing education, strengthening communities and improving lives. Through its philanthropic initiatives, AT&T has a long history of supporting projects that create learning opportunities; promote academic and economic achievement; and address community needs. In 2012, more than $131 million was contributed through corporate-, employee- and AT&T Foundation-giving programs.
Media Contacts:
For GameDesk
Michelle Suzuki, MSC PR
(310) 930-6655
michelle(at)msc-pr(dot)com
For AT&T
Jan Rasmussen
816-512-2238
jan(dot)rasmussen(at)fleishman(dot)com