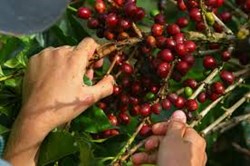 Tourists visiting Costa Rica drive up to 50 miles just to bring home a bag of this unique product in their suit case
Orlando, Florida (PRWEB) September 16, 2013
Red Bud Coffee, the leader in organically grown Arabica coffee beans grown in the volcanic shade forests of Costa Rica, announced a major campaign to bring Red Bud brand coffee to the United States and Canada. "Red Bud Coffee has long been regarded as a must have souvenir for tourists visiting Costa Rica, its flavor is like no other on earth" said newly announced Marketing Director Thomas R. Reich.
Tait Carson, Director of US Operations said, "Red Bud Coffee is a product, which differentiates itself in taste and quality, if we position it right the product will sell itself," Tait continued, "Tourists visiting Costa Rica drive up to 50 miles just to bring home a bag of this unique product in their suit case, now they can get it delivered to their door, right here in the United States."
Red Bud Coffee is testing different markets in the US and Canada, "We plan to market heavily online through the Red Bud Coffee central website, as well as, selected high end retailers, finer restaurants and gourmet coffee shops," said Reich of his marketing plans, "We even have it available through Barter Rewards, and sales are brisk!"
Over the next few months the companies' US operations will begin to roll out its marketing strategies, announcing marketing partnerships and media venues. "We are looking for the right retailers to work together and exploit the unique qualities of this legendary coffee" Reich added, "We are reviewing media outlets for the right mix of promotion and advertising to expose the public to a treat only Costa Rican travelers have enjoyed up to now in the US!"
Red Bud Coffee's US headquarters is based in Orlando Florida the tourist capitol of the world. Tait Carson, Director of US Operations of Red Bud Coffee can be reached at 407 690 6824. Marketing Director Thomas R. Reich can be reached at 407.574.3550.