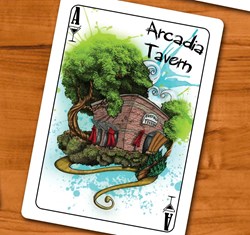 The result is becoming one of the most beautiful, amazing, and slightly twisted adaptations of the local bar scene that we've ever seen.
Phoenix, AZ (PRWEB) September 16, 2013
The 52 Bars of Phoenix -themed USPCC playing card deck will feature some of the most iconic watering holes in the city of Phoenix. From Seamus McCaffrey's, the Rhythm Room and Coach & Willie's to newer hot spots such as Bliss Rebar, Angels Trumpet Ale House and The Vig. Back this project and order your cards now for as little as $11.
The 52 Cards of Phoenix Fantasy Playing Cards are being designed by the artist Milan, who is putting together what is probably the most unique set of cards that have ever been done for a bar or restaurant in Phoenix. He has contributed artwork to a number of fantasy based playing card projects and table top games. The deck itself will feature hand-sketched and painted art of different establishments, a unique tuck box, and custom joker cards featuring local bartenders.
These cards are being manufactured by The United States Playing Card Company. Well-known and reputable brands such as BEE®, BICYCLE®, KEM®, AVIATOR® and HOYLE® are just a few of their customers.
The team at Drink Deal Daily has turned to the Kickstarter community for funding the 52 Bars of Phoenix playing cards, and pledges will be used to offset the costs of production, printing, and shipping. The Kickstarter campaign was launched on 9/10 on Kickstarter.com with a target goal of $12,000. The campaign will run through October 5th. The cool thing about Kickstarter is, you order your cards now, and if the project doesn't get funded, you don't get charged.
According to the recent launch of a Kickstarter campaign to fund the 52 Bars of Phoenix card project, "Milan has been a fan of unique Tavern and Bar architecture and art since before he was old enough to step into one… and has been given carte blanche once again to create a deck with the creative freedom he has shown us here at Drink Deal Daily. The result is becoming one of the most beautiful, amazing, and slightly twisted adaptations of the local bar scene that we've ever seen."
"With our anticipated success and results of Drink Deal Daily, our bar and restaurant clients are always searching for other new marketing options as well. Our core business is the daily deal platform, and this project is just one of many other concepts that we're exploring to help our clients build a stronger customer base and bottom line" stated Adam Dopps, CEO of Drink Deal Daily, "The craft beer community in Phoenix is very excited about our collectable deck of souvenir playing cards that are both original in concept as well as artwork. We hope the Beer, Wine and Cocktail community continues to support us as we embark on that journey."
The DDD team plans to host Google Hangouts where they interact directly with their backers and provide a forum where some of the feedback will be incorporated into the final product. Many of the cards are planned to feature the likenesses of bars that belong to backers that have pledged to be included as part of the design.
To find out more about the 52 Bars of Phoenix playing cards from Drink Deal Daily and to lend your support to the Kickstarter campaign, visit the Kickstarter page.
Adam Dopps
480-415-4161
Adam(at)drinkdealdaily(dot)com
http://www.DrinkDealDaily.com
52 Bars of Phoenix on Kickstarter