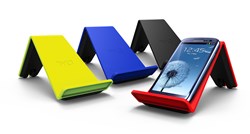 In a world gone wireless, charging has been the only time we have had to plug in – until now.
Los Angeles, Calif. (PRWEB) September 17, 2013
TYLT, a leader in smartphone accessories, today launched the widely anticipated VU wireless charger. Users can place any Qi™ compatible smartphone onto the VU wireless charging pad that doubles as a phone stand.
Multiple inductive charging coils mean that phones can sit off-center, in landscape orientation, or even upside down while charging, and the Qi technology juices at the same rate as rapid USB charging. There are more than 38 Qi-compatible phones, notably the LG™ Nexus 4, Nokia™ Lumia series, and Droid™ DNA.
"When charging with the VU, I'm still engaged and connected while juicing my phone hands-free. I find it most rewarding when our products work together to provide an engaged but free-flowing experience", says Kannyn Macrae, Director of Product Development at TYLT. "In a world gone wireless, charging has been the only time we have had to plug in – until now."
TYLT designed the VU at a 45 degree angle so users can see the screen while the phone charges, including the clock, alerts and incoming calls. The sleek frame is available in black and three vibrant colors with a soft touch surface.
"With the VU wireless charger, we have blended art with technology," said TYLT Founder Rami Rostami. "Once you experience the ease of wireless charging you wonder why it's taken so long for mass adoption."
About TYLT
TYLT lives at the forefront of innovation in mobile accessories, empowering users to redefine the norm. By starting with the most powerful products that currently exist in a category and innovating up, TYLT promises the most sophisticated technology available and forward design. Current product offerings include power products, audio products and protective cases. TYLT is a brand by Technocel, a leader in the mobile device accessory industry for more than 25 years.
For more information on TYLT, product samples, high-res imagery, or executive interviews, please contact:
Danielle Gano
Danielle(at)ElleComm(dot)com
855.438.3553