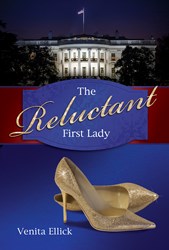 A fun, energy-charged read. ForeWord Reviews
LOS ANGELES, CALIFORNIA (PRWEB) September 14, 2013
The 65th Primetime Emmys "Red Carpet Style Lounge" honoring this years nominees, and benefitting Children's Hospital Los Angeles takes place today, September 14th!
Hosted by Secret Room Events, Wolfgang Puck will be providing his amazing gourmet specialties inside the food and beverage lounge, while nominees and other celebrity guests peruse an array of exciting new products, books, trips, and more.
As guests leave they will be gifted with an amazing gift bag including the newly released book "The Reluctant First Lady" (Brown Books Publishing Group) by Venita Ellick of Bainbridge Island, Washington, and "Letters from England, a memoir" (Brown Books Publishing Group) by Conita Jernigan Lyle of Dallas, Texas.
"With a premise that challenges both mind and emotion, "The Reluctant First Lady" is a fun, energy-charged read. Ellick provides a perfect balance of thought, action, and dialogue, along with a well-timed backstory of the main characters, and she definitely gets the reader thinking, What if?" —ForeWord Reviews
In her memoir, "Letters from England" author Conita Jernigan Lyle invites readers inside her personal journey of romantic love set in 1960s Europe. A story of choice and destiny, Lyle illustrates how our choices have the power to change the course of our lives.
Imbued with the author's carefree spirit, this one-of-a-kind book evokes a feeling of nostalgia - perfectly capturing an era in American and European history - while exploring the human heart's thirst for love and adventure.
To learn more about "The Reluctant First Lady," visit: http://www.VenitaEllick.com
To learn more about "Letters from England," visit: http://www.LettersFromEngland.com
About Brown Books Publishing Group:
Brown Books Publishing Group is a Texas-based independent publisher. To learn more, visit http://www.brownbooks.com
About Children's Hospital Los Angeles:
Ranked fifth in the nation by US News & World Report, Children's Hospital Los Angeles is a non-profit pediatric institution that treats more than 97,000 children annually, with world-class medical staff working in multispecialty teams to provide family-centered care. The hospital is also home to The Saban Research Institute, one of few freestanding research centers in the U.S. where the power of scientific inquiry and clinical care are combined and devoted exclusively to children. As a nonprofit institution, Children's Hospital Los Angeles depends on generous donations and community support to help heal children in an environment that lets them thrive. http://www.chla.org/
# # #