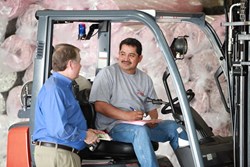 "We have had serveral extreme situations in our company that our chaplains have helped with," Steve Luse, CEO Luse Holdings, Inc.
Plano, Texas (PRWEB) September 15, 2013
Chaplains are known for helping people during life's most stressful, tragic or joyful occasions. Several U.S. companies have found the use of Marketplace Chaplains can have a positive impact on outside factors which can affect employee engagement. (Definition: "employee engagement" is the emotional commitment the employee has to the organization and its goals.)
In his report on http://www.ERE.net, noted workplace productivity expert Dr. John Sullivan reported that outside factors could negatively impact an employee's morale and satisfaction in the workplace. The report went on to state that, "We know from morale and employee satisfaction surveys that many (engagement) factors outside of the workplace influence these ratings. The unemployment rates, cost of living, mortgage crisis to family crises are but a few of the many factors which can influence an employee's relative feeling toward their company."
That's exactly what Steve Luse, President and CEO of Luse Holdings, Inc., found out when he started using Marketplace Chaplains in his companies, which are scattered across the Midwest and Texas. "We have had several extreme situations in our company that our chaplains have helped with, including one where I was having some severe medical problems and our chaplain was there to help me," Luse said. "It's (using Marketplace Chaplains) made a huge difference in our companies."
One of the greatest tragedies in a workplace is an on-site employee death, especially those resulting in a tragic accident, which is what a Southeastern company, using Marketplace Chaplains services, faced earlier this year.
An employee was working around some heavy equipment when he slipped and was crushed in between the machinery. "This shook the entire department," said Marketplace Chaplain Craig Miles who was first on the scene. He was soon joined by Chaplain and Regional Vice President Shane Satterfield. "We were able to offer comfort and help, and calm the situation so the police could conduct their investigation," said Satterfield. "I had the opportunity to be with many, comfort others, and help the Human Resources Department so they could organize the employees and have them return to work. The situation was handled well and we were able to minimize panic and chaos," added Satterfield.
Marketplace Chaplains, America's original and largest workplace chaplaincy organization, currently serves companies in 44 states, more than 900 cities, 4 foreign countries and 1 commonwealth, and has more than 2,780 chaplains in over 3,000 client locations.
"In good, bad, tragic and happy times, these discerning CEOs have seen and experienced firsthand, the benefit of using Marketplace Chaplains in their companies," said Marketplace Chaplains' President and COO Richard S. De Witt.
For more information on this employee benefit which has been featured with Marketplace Chaplains on CNN, NBC Nightly News, and in the Washington Post, the New York Times and Bloomberg BusinessWeek, visit http://www.mchapusa.com.
To arrange an interview with a Marketplace Chaplain contact Art Stricklin, Vice President Public Relations, at artstricklin(at)mchapusa(dot)com or call 1-800-775-7657.
ERE.net, - http://www.ere.net/2012/02/23/what%E2%80%99s-wrong-with-employee-engagement-the-top-20-potential-problems/