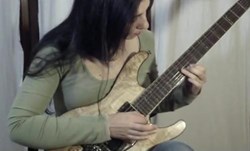 Los Angeles, CA (PRWEB) September 14, 2013
Alejandra Mesliuk shows how to play the guitar solo from Paradise Lost, by the metal band Symphony X.
Synphony X, the American band founded in 1994 by guitarist Michel Romeo and keyboardist Michael Pinnella, is famous for their interesting and unique approach to the Progressive Metal genre. Their music which features unusual timings and complex meters, combines classical and neoclassical influences with symphonic metal and heavy metal to create a sound that is both modern and intellectually serious.
Serious music is often inspired by serious subjects. In this case, it is the Restoration Era poem (of the same name) by John Milton, one of the greatest English authors. That work is usually viewed as Milton's response to the collapse of the English Republic and the restoration of the Monarchy -- a serious subject, indeed. "The lyrics are based on ideas and emotions portrayed in Milton's work -- betrayal, revenge, lust, etc. Musically it is much more aggressive - keeping the feel of these ideas. Brutal and savage at times, but melodic and passionate at others," Romeo said, describing the album, to Jason Ritchie in 2007. However, in the same interview, he described the song "Paradise Lost" as a change of pace. "We wanted a few softer songs to offset the heavy stuff -- this is one of my favorites, I love the chorus…somewhat progressive and lush."
And it is that musical lyricism that Alejandra Mesliuk emphasizes in this video lesson which focuses on the first part (the second part is to follow in a subsequent video) of Romeo's solo from the song "Paradise Lost." This is a complex piece of music that requires re-tuning each string down one step from normal tuning, and that demands a decent level of competence, making this a lesson for advanced players. As is her custom, Alejandra initially plays the solo at normal speed, then repeats it slowly, so the student can appreciate the intricate combination of fretting, picking, tapping, and tremolo-bar accents. At either tempo, her skill is inspiring and her playing is sensitive and emotional, as befits the music.
Alejandra Mesliuk is a highly accomplished and classically trained guitarist from Argentina who is equally comfortable playing Jazz, Rock, and Classical pieces.
Guitar Control is a consortium of professional guitarists dedicated to providing the highest quality musical instruction. Producing both web-streamed lessons and comprehensive multi-DVD courses, Guitar Control offers instruction for every style of playing and for all musical genres. Guitar Control's YouTube channel offers 387 (and counting) free video lessons.