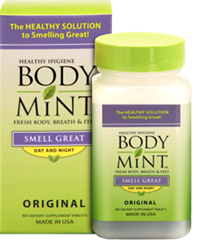 Oahu, HI (PRWEB) September 16, 2013
Body Mint-USA, the maker of the innovative odor fighting product with the same name is extending its special promotion to recognize the launch of their new website. Currently any shopper who purchases an original Body Mint, Body Mint Sport or Body Mint Lady product will receive $3.00 off their purchase. The original promotion was so successful, the owners of body Mint decided to extend it to thank consumers who have come to love this effective and healthy deodorant product.
The $3.00 off promotion applies to every bottle of product the shopper purchases, not just one as is the case with many promotions and there is no limit to how many bottles a consumer can purchase in one visit. The offer is a straight discount and there is no coupon code to enter. The savings is applied automatically at checkout.
Body Mint is the most innovative deodorant alternative product to come on the market in decades. Rather than a chemical-laden stick, Body Mint comes in tablet form and contains no harsh chemicals. With Body Mint there is no exposure to the aluminum. In fact, the product contains chlorophyllin, an all-natural derivative of chlorophyll, and that substance targets odors throughout the body, including breath, underarm, perspiration and foot odors. Two tablet daily is all that is needed to keep all types of body odors at bay.
To learn more about Body Mint and to take advantage of this extended promotion visit the website at http://bodymint.com/ or call 1.866.263.9646 to speak with a company representative. Body Mint also has a presence on Facebook, Twitter and YouTube and when visitors go to the Body Mint website they are able to chat live with an expert on the product.
ABOUT BODY MINT-USA LLC
Body Mint-USA, LLC is a subsidiary of Hawaiian Organics, LLC. The company was founded in 1997 with the mission to research and develop unique and healthy products that enhance the quality of life. Body Mint is Hawaiian Organic's first and most successful product. Body Mint is am ingestible body and breath deodorizing/freshening tablet that is basically a deodorant in a pill
To learn more contact:
1.866.263.9646
http://bodymint.com
Follow on Google +
###