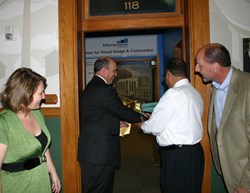 Fort Collins, Colorado (PRWEB) September 13, 2013
Mortenson Construction officially opened the Mortenson Center for Virtual Design and Construction at Colorado State University with a ribbon cutting ceremony and open house held at Guggenheim Hall on September 11th.
"Our ties with CSU are extremely important to us," said Bob Hansen, Mortenson senior vice president. "We want to help ensure today's construction management students are prepared for rapid advancements in the industry and are exposed to real-world scenarios," Hansen added.
"We couldn't have made this room happen without support from CSU and our trusted design and trade partners," said Clay Benson, Mortenson's director of design phase management. Partners who donated time and/or materials to the creation of the Mortenson Center for Design and Construction include the Department of Construction Management team at CSU, Cator Ruma Engineers, Encore Electric, RK Mechanical, Safe Built Colorado, Officescapes, Floorz, and Bluebeam.
Students, faculty, Mortenson Construction team members, trade partners and other community stakeholders attended the event.
About Mortenson Construction
Serving Colorado for more than 30 years, Mortenson Construction is a U.S.-based, family-owned construction company. Founded in 1954, and recognized as one of the nation's top builders, Mortenson provides a complete range of services, including planning, program management, preconstruction, general contracting, construction management, design-build, and turn-key development. Mortenson has offices in Denver, Minneapolis, Seattle, Milwaukee, Chicago, Phoenix and Portland with international operations in Canada and China. For more information please visit mortenson.com.