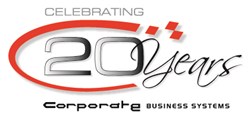 Today, Corporate Business Systems serves clients throughout an impressive 30,000 square-mile area in southwest Missouri and northern Arkansas.
Springfield, Mo. (PRWEB) September 16, 2013
This September 19th, the Springfield Chamber of Commerce is joining Corporate Business Systems in a ribbon cutting and celebration for 20 years of successful business. Jim Quesenberry, founder and owner of Corporate Business Systems, opened his first copier dealership on September 3rd, 1993. Located in the Southern Hills Shopping Center, Quesenberry started with a small office space and only one employee. "There were a lot of sleepless nights at first. My one employee got paid. I didn't," said Quesenberry.
Perseverance and good business sense paid off for Corporate Business Systems, and within a year of working out of the small location in Southern Hills, Quesenberry purchased his own building. He knew that hard work combined with fairness and good customer service would promote Corporate Business Systems to the next tier of success. He carefully chose and hired a team of employees who had the attitude and drive to take his company to the forefront of office technology. Over the next ten years, Corporate Business Systems took a commanding presence in the industry.
Quesenberry's commitment to promoting awareness enabled Corporate Business Systems to expand into new areas. Initially servicing only Springfield clients, the company now provides office solutions to an impressive 30,000 square-mile area. Stretching north to Clinton, east to St. Robert and west to Joplin, Corporate Business Systems covers the bulk of southwest Missouri. Recently, the company's territory extended to northern Arkansas where it services the northwest Arkansas corridor and Harrison, Ark. Constantly improving services within their area, Corporate Business Systems continues its mission to be the most recognized name in the industry.
Growing in clients and employees, Corporate Business Systems now operates out of a 20,000 sq. ft. building, constructed in 2006. Only blocks from the former building on South Cavalier Avenue, this state-of-the-art facility is a testament to the hard work and accomplishments Corporate Business Systems has earned in the past 20 years. In addition to this newest building, the company has facilities located in Joplin, Mo., St. Robert, Mo., and northwest Arkansas. With four locations and a staff of 60 employees, the triumph of Corporate Business Systems' current status has exceeded even Quesenberry's expectations.
Staying in business 20 years did not come easily. It required the unrelenting efforts of Quesenberry as well as the support of employees and long-term clients. He demonstrates his gratitude by giving back to the community. Corporate Business Systems takes an active stance in helping the area's non-profit organizations and is currently partnered with United Way of the Ozarks, Developmental Center of the Ozarks, American Cancer Society, Boys & Girls Clubs of Springfield and the American Red Cross: Greater Ozarks Chapter.
The company hopes to continue another 20 years of success by treating its clients with fairness, respect and unparalleled customer service. Quesenberry is grateful for all the people who have helped him foster his vision from a small office in the Southern Hills Shopping Center to the office solutions empire he manages today.
This event will take place at the Corporate Business Systems' Springfield office on September 19th from 3 p.m. - 7 p.m. The ribbon cutting ceremony will commence at 4 p.m. The company, which has provided economic growth to the community and supported other area organizations, invites the public to join them in celebrating 20 years of excellent service.