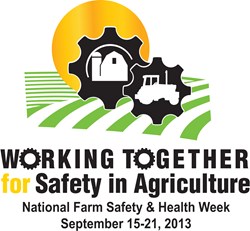 It's important to remember that everyone is responsible to help keep our farms and rural roads safe during this busy time of year. - Grinnell Mutual President and CEO Larry Jansen
Grinnell, IA (PRWEB) September 14, 2013
During National Farm Safety and Health Week, September 15-21, Grinnell Mutual Reinsurance Company celebrates the rural Midwest and encourages residents to work together for safety in agriculture.
"Fall is a busy time for many area farmers and other agricultural workers, whether they're harvesting crops or preparing for winter. Like Midwesterners everywhere, they're working hard to pursue their goals," said Larry Jansen, president and CEO of Grinnell Mutual Reinsurance Company in Grinnell, Iowa. "It's important to remember that everyone is responsible to help keep our farms and rural roads safe during this busy time of year."
Following these tips, especially during harvest season, could save lives.
Use the buddy system to load and unload grain. Always know where all workers and family members are (especially children) at all times when handling grain in a wagon or storage bin and never work alone. A 12-inch layer of grain can weigh as much as 300 pounds, enough to entrap a grown person or suffocate a child.
Farm Safety For Just Kids recommends locking all access doors to grain storage structures and locking out power to all types of grain-handling equipment when not in use. Also, never permit children to ride in grain wagons or enter grain storage areas. Adults should wear a body harness with a lifeline or use a boatswain's chair.
Allow plenty of time for rest. Farm workers often put in long days to harvest crops in favorable weather conditions. It's important to get enough rest to avoid accidents in the fields or on the roadways. Teens (ages 10-17) require 8.5 to 9 hours of sleep and adults need 7 to 9 hours, as reported by the Centers for Disease Control and Prevention.
Make sure slow-moving vehicle signs are installed and easily seen. For 50 years slow-moving vehicle emblems have alerted drivers to a vehicle moving less than 25 mph. With the increased tractor and wagon traffic at harvest time, watch for slow-moving vehicles on roadways and be prepared to slow down. If you're driving a tractor or combine, make sure the slow-moving vehicle emblem is mounted properly and is visible from the rear of your vehicle.
National Farm Safety & Health Week has been celebrated since 1944 and is organized by the National Education Center for Agricultural Safety at http://www.necasag.org.
About Grinnell Mutual
Grinnell Mutual Reinsurance Company, in business since 1909, provides reinsurance for farm mutual insurance companies and property and casualty insurance products through more than 1,600 independent agents in 12 Midwestern states. Grinnell Mutual is the 123rd largest property-casualty insurance company in the United States and the largest primary reinsurer of farm mutual companies in North America.