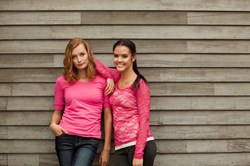 Salt Lake City, Utah (PRWEB) September 16, 2013
High-style, low-price retailer DownEast has kicked off its sixth annual LIVE for Pink tee-shirt promotion in support of organizations working to provide breast cancer awareness and support. Through October 13, 2013, customers can once again purchase the special limited edition LIVE for Pink tees and DownEast will donate 50 percent of the sales – up to $25,000 – to selected grant recipients to help continue their work.
Since the inception of its annual LIVE for Pink promotion, DownEast has donated more than $100,000 for charities in honor of National Breast Cancer Awareness Month. The LIVE for Pink tees can be purchased in DownEast stores and online.
"Our LIVE for Pink campaign has become a regular fall event and a way to honor and assist groups working to provide breast cancer awareness and support," said Klane Murphy, CEO at DownEast. "This year, we've once again selected innovative organizations that are making a big impact in the lives of those experiencing breast cancer or are providing vital education about the disease."
The 2013 DownEast Charitable Organization grant recipients include:

Arizona Bosom Buddies Support Group
Arizona Institute for Breast Health
Breast Cancer Coalition of Nevada
The Caring Place (Nevada)
American Lung Association of Utah
Get Screened Utah
Because There is Hope (Washington)
Cancer Care Northwest (Washington)
"Giving back to the communities where we do business has always been one of our core company values," said Murphy. "DownEast is proud to be able to support worthwhile organizations focused on breast cancer issues. We're inspired by these groups' valiant efforts and also by the shoppers who support our annual fundraising campaign with our LIVE for Pink tees each year. Many of our own DownEast family members' lives have been touched by breast cancer – it's a cause very important to us."
>> DownEast puts out call to nominate a breast cancer organization in YOUR area
DownEast has 50 store locations in the West including in Utah, Colorado, California, Idaho, Arizona, Washington, Nevada and Wyoming. As it also continues to build its brand nationally via its e-commerce website, it wants to extend the reach of its DownEast Charitable Organization grant program, as well. While $20,000 of the $25,000 projected to be raised through the LIVE for Pink campaign will be distributed among the aforementioned recipients, DownEast is also inviting fans nationwide to nominate organizations in their area to be considered to also receive a LIVE for Pink 2013 grant, up to $5,000. Nonprofits and philanthropic organizations working to support those experiencing breast cancer, or working to help prevent it through education, are eligible, regardless of location in the United States.
To make a nomination, send an email with the header LIVE FOR PINK NOMINATION to press(at)downeastbasics(dot)com. Please include the name of the organization, the city and state where it operates, and brief information on why it is being nominated. Optionally, if nominators have additional information such as an official organization website URL, a contact name for the organization and email address or phone number – that can also be included.
The nomination process will close at the conclusion of the LIVE for Pink campaign on October 13, 2013. The official final grant recipients will be selected by November 30, 2013.
DownEast will also once again co-sponsor the Pink Half Marathon, which will take place in Park City, Utah, on Oct. 12.
DownEast and its staff proactively support a variety of philanthropic causes year-round. Breast cancer survivors within the DownEast family include Llilli Murphy, wife of CEO Klane Murphy, and Claire Freedman, mother of company founders Jonathan, Bill and Charlie Freedman.
About DownEast
DownEast (http://www.downeastbasics.com), a leader in stylish and affordable apparel, home furnishings and accessories, believes that shopping should be a fun, guilt-free experience. Founded in 1991 and still family owned and operated, DownEast continues its goal of bringing customers the very best merchandise – from national brands to its own DownEast lines of home furnishings and DownEast Basics apparel – at the very best prices.
The fast-growing retailer operates nationally with its Basics line via its online store in addition to 50 locations throughout the West including in Utah, Colorado, California, Idaho, Arizona, Washington, Nevada and Wyoming.
# # #