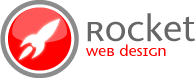 Rocket Web Design's business websites are high quality and very affordable.
Salt Lake City, UT (PRWEB) September 14, 2013
Why does RWD offer their custom web design packages at such a low cost?
The goal that RWD strives to achieve is to supply businesses with a website that properly markets their company and provides them with sufficient business. Other design firms would offer this type of package at a much higher rate, not RWD. RWD wants to help business get their business without breaking their marketing budget, they will even through in a new logo at no extra cost.
With RWD, a business owner will receive a quality and professional designed website for their business, that will help attract new customers and improve leads and sales. They are experts in design and marketing so their low cost business design is made to help business bring in more business. Getting a custom web design is an investment that time after time business owners do not regret making.
What are the perks of a website from RWD?
RWD provides their customers with many perks when signing up for a website package with them. One of the perks that a business owner will receive is getting a new logo at no addition cost, and a designer that will work with the business owner to make sure the logo looks exactly how the client had desired. Also when purchasing a web design package, business owners will have the opportunity to sign up for a strong platform marketing plan, to better promote their business with online traffic. Getting a low cost business design can help improve the sales of that business by a noticeable difference and can do so without spending big bucks for a marketing strategy.
Getting a custom web design for a business has never been easier than with RWD, they offer top of the line customer service to help the business owner get his or her website looking exactly how they imagined it and to properly represent the company. They will help design the site to fit the business and design a matching new logo that will match the website and be designed with high quality graphics to represent the business properly. With the professionals at RWD, they are capable to design a website to fit the industry and attract the customers that are searching for that type of product or service. While they do offer low cost business design packages, what the business owner will get in return is much higher than what they will pay for the services.
For more information on RWD, please visit them at their website: http://www.rocketwebdesign.com.