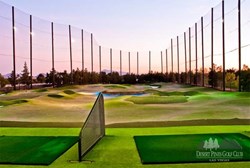 We're excited to be reopening and can't wait to resume our role as a major off strip destination.
Las Vegas, NV (PRWEB) September 14, 2013
The largest two-tiered and only climate-controlled driving range in Las Vegas is scheduled to re-open September 27th. The driving range facility, a favorite of locals and Las Vegas visitors, is re-opening after incurring damage from hurricane force winds in a July storm.
The operators of the facility, Walters Golf, used the storm damage as an opportunity to complete major renovations meant to maintain the Desert Pines Driving Range as the pre-eminent driving range and golf practice facility in the Las Vegas Valley.
Renovations include the installation of a full grass range as opposed to synthetic or dirt (typical range surfaces seen in Las Vegas). It also features five grass greens modeled after famous PGA tour locales. New range balls and updated facilities also complement the already expansive range. The range will continue to be climate controlled, "practice in total comfort with misters in the summer and heaters all winter," commented Joe Kelly at Walters Golf.
The 2nd level of the two-tiered facility, includes an automated teeing system which sets up a golfer to tee off without touching the ball. This innovative system is thought to be especially helpful for practice, "…because golfers do not have to release their grip to strike another ball and therefore can isolate and work on various aspects of their swing," commented a Desert Pines Golf Club Representative.
Facility managers are expecting a busy opening week, and are conducting several promotions including an "Orange Ball" raffle which gives gifts and prizes to any golfer who finds an orange range ball. "We're excited to be reopening and can't wait to resume our role as a major off strip destination," commented Nathan Corliss at Walters Golf.
Driving Ranges are all about practice and operators of the facility have set out to make this the best range and practice facility in Las Vegas with the help of one of America's top one hundred golf instructors Mike Davis.
The Desert Pines Driving Range is located at Bonanza and Pecos off highway 95. Lighting allows the facility's hours to run from 7:00 AM to 10:00 PM seven days a week all year.