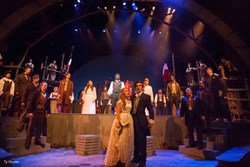 Lynchburg, VA (PRWEB) September 14, 2013
For the first time in its theater history, Liberty University is hosting "Les Misérables," which opened Friday, Sept. 13, and continues through Oct. 20.
It is the first show this season for the Alluvion Stage Company (the professional arm of Liberty's Department of Theatre Arts). Liberty students and alumni present a refreshing take on this timeless tale of grace and forgiveness, bringing the Gospel-centered interpretation to life.
The show is the largest the school has ever hosted, with 70 cast and crew members.
The musical, based on Victor Hugo's classic novel, pours a vat of emotion into the hearts of the audience, touching on the unchanging truths of humanity. It tells of broken people searching for hope in a broken world. From one act of grace, hero Jean Valjean's life changes forever and, in turn, changes the lives of those around him.
Linda Nell Cooper, theater department chair and the show's director, said the redemption story shows that people have been given "an enormous amount of grace because we have enormous sin."
"This show, in a way that's very different from what we hear in churches, really demonstrates that (grace) with a pivotal, strong character (Valjean)," she said.
Cooper said the show is a mirror of the Gospel, resonating freedom from sin and mercy from wrongdoing.
"There's an intensity that comes from (this production) because the entire cast is Christian," Cooper said. "There's an understanding of what it means when Valjean says, 'On this never-ending road to Calvary.'"
Senior, Kelli Overmyer, portrays the character of Fantine, a woman who has tasted the misfortunes of life and finds herself in the grasp of hopelessness.
"I relate to her heart," Overmyer said. "I realize that as a Christian, God gives us the grace and the strength to let go of our expectations of what our life should be. Fantine, unfortunately, is someone who never fully gets hold of that, but she even gets grace in her demise. God is still good and forgives her for everything she has done."
Hear more from the lead actors in a video by Liberty University News Service.
To purchase tickets, visit the Tower Theater website or call the Liberty University Box Office at (434) 582-SEAT (7328) during weekday business hours. On the night of a performance, call the Tower Box Office at (434) 582-2085. Note: Sept. 13 performance is sold out.
About Liberty University
Liberty University, founded in 1971, is the largest private, nonprofit university in the nation, the largest university in Virginia, and the largest Christian university in the world. More than 100,000 students attend classes on its 7,000-acre residential campus and study in its thriving online education program.