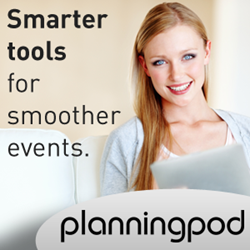 "It's so customizable, intuitive, and responsive to use, and it was literally saving me time on the first day I used it."
Tyler FitzHugh of Viola! Event Studio
Denver, CO (PRWEB) September 17, 2013
With the launch of Planning Pod - formerly My Wedding Workbook Pro - event planners now have a better way to simplify and streamline how they manage events and collaborate with co-workers and clients.
"Finally I have something that allows me to feel more connected to my team, vendors and clients," said Joseph Coston of New York City-based JDesign Group and an early user. "We have never felt more organized and on top of things. At this point, we could never work without it."
Offering more than two dozen productivity tools, Planning Pod - https://www.planningpod.com/ - combines the organizing power of spreadsheets, the convenience of online collaboration apps and the top-down view of enterprise software (but without the complexity). With it, event planners can drill down to the smallest detail while always being able to see the big picture regarding their events ... all in one convenient place.
"Event planners are resourceful problem-solvers," said Jeff Kear, co-owner of Planning Pod. "And they are always faced with challenges, a critical one being how to manage hundreds of details and coordinate with dozens of people without missing a beat. Many of the planners we talked to over the last five years were nervously relying a loose collection of spreadsheets, email and Web apps to stay organized, and they just assumed this was as good as it would get. We knew they deserved a better solution, so we built it."
Planning Pod began four years ago as My Wedding Workbook Pro - an online app for wedding planners to manage their businesses. But after many requests by event planners who wanted to use it to plan any kind of event, Kear and co-owner Steven Feingertz decided to build an entirely new event management software platform based on years of research and lessons learned in the events industry.
"We created our system to be as essential to in-house event professionals at corporations and non-profits as it is to independent event planners, wedding planners and event venues," said Kear. "To do this, our event planner software tools had to be flexible enough to accommodate revenue-generating events and corporate meetings as well as weddings and parties."
Included are tools for managing budgets, tasks/to-do's, itineraries/schedules, guest lists, contacts, leads, personal and event calendars, files and documents, image galleries, messages and notes, proposals, invoices, finances, legal contracts and time tracking. In addition, an event website builder enables users to quickly create a customized Web site and collect RSVPs electronically. And planners can easily invite clients and co-workers into events to collaborate and share information.
"Planning Pod is really an exciting and fun way to collaborate with my clients," said Tyler FitzHugh of Viola! Event Studio in Washington, DC. "It's so customizable, intuitive, and responsive to use, and it was literally saving me time on the first day I used it. In addition to great project management, I use Planning Pod to assist me with my daily tasks and work flow - like to-do lists, contact info, notes, paperwork, proposals and invoices."
And although Planning Pod is already a comprehensive event management software application, owners Kear and Feingertz are far from being finished with it. "We plan on continuing to roll out new features and updates over the next two years as we listen to our users and provide them with even better tools to help them be more productive," said Kear.
Planning Pod offers a free 30-day trial for event planners who want to give the online event planning software a test run, and prices start at a very reasonable $27/month.
About Planning Pod: Smart, organized event planners now have a better way to manage their events and collaborate with staff, clients and vendors. Planning Pod is Web-based event management software for the professional that delivers more than two dozen easy-to-use tools in one convenient place, enabling event planners to track every detail as well as monitor the overall progress of their events.
Contact Information:
Jeff Kear, Co-Owner
jeffk at planningpod dot com
1-877-266-3885
https://www.planningpod.com/
http://www.myweddingworkbookpro.com/