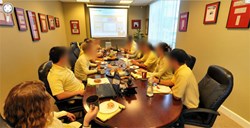 Sullivan Solar Power is proud to be an early adopter.
San Diego, CA (PRWEB) September 13, 2013
As an industry first, local renewable energy firm, Sullivan Solar Power has teamed up with Google to produce a 'virtual tour' of their San Diego headquarters. Similar to Google's street view, this new technology empowers internet users to walk, pan, tilt, and zoom their way through a building's interior using keyboard and mouse commands.
"The average solar customer is highly intelligent and discerning, they want to know with whom they are doing business. Inundated with a deluge of advertising from flyers to email to billboards, solar supporters lack the tools to easily narrow the field to the most qualified contractors," said Michael Chagala, Director of Information Technology at Sullivan Solar Power, "This new technology puts them in our office, let's them see we are an established, thriving company, not an upstart operating from a garage."
Visitors using Google's popular Google Maps are now given the option to see inside Sullivan's headquarters under relevant searches. Similar to street view, visitors are presented arrows, dials and zooms to navigate the space. Upstairs, downstairs, and through the parking lot out to the street - Google's new virtual tour service is a great way for Sullivan to promote and expand its presence on the web.
"People are busy; they are eager to adopt new technology if it saves them time. Google's virtual tour of our office does just that, and without a learning curve – a few clicks of the mouse and they're in," said Chagala, "I predict this will grow in popularity, Sullivan Solar Power is proud to an early adopter."
To view Sullivan Solar Power's virtual tour, visit http://goo.gl/maps/d5t99.
###
About Sullivan Solar Power
Sullivan Solar Power is a turnkey solar system provider that delivers solar electric projects from concept to completion. The company has installed over 14,000,000 watts of solar power ranging from small-scale residential to large-scale commercial and municipal systems. Sullivan Solar Power is headquartered in San Diego, CA and owned and operated by Dan Sullivan. Sullivan Solar Power has a longstanding A-plus rating with the Better Business Bureau, with no complaints filed since the business began. The firm has been named one of the fastest growing energy companies in the nation by Inc. Magazine for three consecutive years and services all of Southern California. Regardless of project size and scope, Sullivan is committed to delivering the best products and the most qualified professionals to its customers. Visit http://www.sullivansolarpower.com for more information.