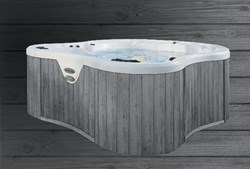 Vista, CA (PRWEB) September 13, 2013
Dimension One Spas (D1) is excited to announce the release of Driftwood Gray hot tub skirting, the newest color in D1's prestigious Terracina Collection.
The Terracina Collection, exclusive to D1, looks and feels like real wood, without the tedious upkeep. It is especially resistant to fading, splintering, warping or other wear from environmental exposure.
Driftwood Gray is a worn, beach-inspired look reminiscent of east coastal getaways like Cape Cod and Nantucket. It is the 4th color in the collection along with Cherry, Summer Pine and Vintage Cedar.
To learn more about D1's exterior innovations, please visit us HERE.
###
About Dimension One Spas
Dimension One Spas (D1), founded in 1977, is the industry leader in designing and manufacturing luxury home hot tub hydrotherapy and aquatic fitness products. D1 has combined its innovations in materials, science and water technology to bring customers the most advanced spas in the world. D1 has created a benchmark for quality and innovation, offering four distinct high performance collections. Please visit http://www.d1spas.com for more information