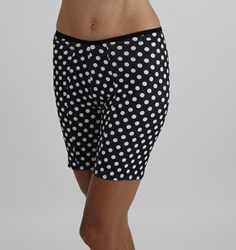 The Classic Shortlette offers women comfortable rash guard protection with a feminine fit.
Kingwood, Texas Sept. 17, 2013 (PRWEB) September 18, 2013
Kingwood, TX (PRWeb) - Goodbye Chub Rub, Hello Comfortable. In response to overwhelming love for the Shortlette, Undersummers by CarrieRae has launched the Classic version of their popular Lace Shortlette in additional colors: white, beige, black, and polka dot. The Classic Shortlette features smooth lines appealing to women who want to wear Shortlettes for more than shorts to wear under dresses. Classic Shortlettes are rash guard foundation wear perfect for layering as we move into the cooler months. Classic Shortlette panty shorts can be worn under slacks, active wear, lounge wear, and cold weather sporting clothes to reduce chafing. Undersummers camisoles are also available and perfect for layering.
Similar to the Lace Shortlette, the Classic Shortlette features a seamless inner thigh and longer leg to maximize comfort and eliminate leg chafing. The Shortlette's unique stay-put leg keeps the leg in place while walking or running. There is a liner so there is no need for additional layers. The Shortlette falls at the natural waist for more coverage and eliminates panty lines. Signature front seams add a touch of femininity to the ultra soft, Shortlette. Available in women's and plus sizes in a variety of colors.
What customers are saying, "These Undersummers make you feel good all over any time you wear them. They are cool on your skin, comfortable, and beautiful. I like to wear mine to sleep in, to yoga class, and of course, under skirts and dresses. That means you could literally wear them 24/7." - Janine Nerad, Houston, TX.
Undersummers by CarrieRae is owned and operated by CarrieRae LLC, in Kingwood, TX. CarrieRae LLC is a woman/minority owned company manufacturing in the USA.
For more information about Undersummers by CarrieRae please contact:
Carrie Adorna, Owner
713.409.8395
info(at)undersummers(dot)com
http://www.undersummers.com