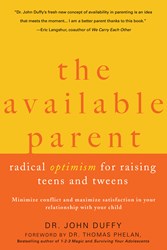 (PRWEB) September 16, 2013
Dr. John Duffy is a clinical psychologist and certified life coach with a thriving private practice in the Chicago area. Dr. Duffy works with both teens and adults and specializes in helping parents maximize satisfaction and minimize conflict in their relationships with their teenagers. He is also the parenting expert on Steve Harvey.
He recently appeared on Steve Harvey to discuss spoiling adult children, and how to avoid it. "The line is actually pretty clear," he says. His advice is to not do anything for adult children that would disempower them.
On another show, John Duffy spoke about how to handle a "Mama's Boy," a problem which, Dr. Duffy argues, is usually caused by an over-bearing mother. Some mothers refuse to let go, even after their sons grow up, and so Dr. Duffy recommends finding something else to do that is stimulating and fulfilling aside from continuing to try to "raise" an adult son.
The Available Parent:
Radical Optimism in Raising Teens and Tweens
By John Duffy
At a time when many "helicopter parents" micromanage and under-appreciate their children, Dr. Duffy's step-by-step guide is an innovative approach to taking care of teens and tweens. The Available Parent is also available as an audiobook.