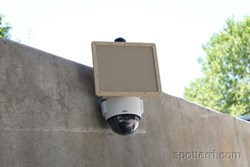 The Japanese Defense Foundation members who witnessed the SpotterRF's demonstration were so impressed at SpotterRF's capability with low cost solutions
Salt Lake City, Utah (PRWEB) September 16, 2013
SpotterRF and NASAM announced a successful milestone for delivery of SpotterRF compact surveillance radar in the Asia Pacific market. NASAM, an international distributor focused on product development (export/import) between the U.S. and Japan, in association with Utah Governor Herbert's Office of Economic Development (GOED) recently included SpotterRF radar among half a dozen technologies chosen to showcase Utah's robust technology sector. NASAM and SpotterRF demonstrated this new technology for two dozen members of the Robotics Research Committee, Defense Technology Foundation representing Japan's top tech companies like NEC, Toshiba, Mitsubishi, Kawasaki, Hitachi and Fujitsu.
"The Japanese Defense Foundation members who witnessed the SpotterRF's demonstration were so impressed at SpotterRF's capability with low cost solutions," said NASAM Vice President, Defense Programs, Daiki Yamaguchi. "They agreed that SoptterRF plays an important role in protection and security for important facilities in the both commercial and military sectors."
On October 2-4, 2013, NASAM will exhibit SpotterRF in booth #1C47 at RISCON TOKYO 2013, the largest Security & Safety Trade Expo in Japan, which is largely sponsored by Tokyo Metropolitan Government, the host for the Tokyo Olympics 2020.
"We are excited by the progress of our distribution agreement with NASAM for military and commercial sectors," said SpotterRF CEO Logan Harris. "The commercial sector is coming up with some very creative uses for compact ground radar under 3.5 pounds, and costing less than a low end PTZ thermal camera."
AsiaPac countries face similar issues as the U.S., solvable with compact radar like the security play by the $11 billion strategic integrator Science Applications International Corporation (SAIC). SAIC has now integrated SpotterRF radar to protect critical bridge infrastructure for the Maryland Department of Transportation (MDOT). In an effort to better protect critical infrastructure across the state, SAIC was contracted to create "alert zones" around bridges. The system makes sure water traffic steers clear of bridge components that might be targeted by terrorists.
SAIC tested three systems for this application. SpotterRF proved much more accurate than more expensive legacy products. Neil Chung, project leader for SAIC, was surprised that the newcomer proved to be "head and shoulders more accurate."
According to Harris, compact radar will likely prove helpful in a variety of environments where critical infrastructure is at risk. NASAM hopes Japan and other regional countries will follow California's lead in protecting dams with this technology. After a single U.S. dam burst, the government ultimately paid $300 million in damage claims. Compact radar greatly reduces the cost and effectiveness of protecting such dams.
Small airports are another at-risk group that low-cost, compact ground radar will likely protect in the near future. When a crack pot scaled a security fence at the St. George, Utah airport, security and government leaders found out just how easy it is to steal a $21 million plane. Smaller airports that will likely seek better protection from compact ground radar in the future.
Near the end of the 2002 Salt Lake Olympics, officials pointed to possible sabotage when an explosion at an electrical substation powering the airport and 33,000 customers cut the critical infrastructure's link to electricity. A fence was later found cut at the substation. As Tokyo plans for the 2020 Olympic Games, perimeter protection offered by compact radar will likely be viewed as a minimal cost for improved site security.
Construction-site and metal theft are among other areas NASAM hopes to address with compact radar.Utah alone spends more than $300,000 per year to replace stolen copper. A shopping center may be concerned about after-hours movement in the parking lot or near its loading docks. Units can be mounted on the ground, a pole, or high on a building exterior. Surge protection, waterproof construction, and low-energy consumption (less than 10 watts) ensure that units function for years with little maintenance.
Value Provided by Compact Radar
Applications for SpotterRF systems include oil and gas, substation, border protection, dams, bridges, oil platforms, power plants, small airports and port security. Spotter radar units come in four sizes, weighs as little as 1.5 lbs. each, use less energy than a light bulb (just 8W each), and can operated from a web browser as well as communicate with Google Earth, Milestone, SAIC's AFT and other situational awareness software. Training takes less than 30 minutes in the field.
Integration with existing IR cameras, video analytics, or other Intrusion Detection Systems (IDS) greatly reduces costs and increases effectiveness for protecting critical infrastructure such as embassies or national parks.
At ASIS 2013 next week in Chicago, booth #2533, SpotterRF will roll out new products for the commercial market under its new Spotter Shield Initiative.
About SpotterRF
SpotterRF provides the world's most advanced compact surveillance radar (CSR) system for perimeter security and force protection. Made in the USA and engineered for extreme conditions, SpotterRF technology is the most compact, lightweight, energy efficient, and cost-effective radar for elite warfighters and critical infrastructure requirements. For a data sheet, visit http://spotterrf.com/commercial-products.html.
Media Contact:
John Pilmer
PilmerPR
801-369-7535
jpilmer(at)pilmerpr(dot)com