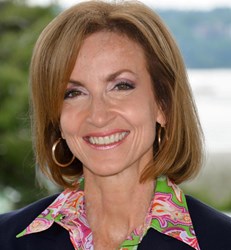 Maggie's List is an exceptional organization that has stood by me since the 2010 elections. - Representative Hayworth
Washington, DC (PRWEB) September 16, 2013
Maggie's List, a federal political action committee (PAC) dedicated to electing fiscally conservative women to federal office, is proud to announce the endorsement of Nan Hayworth for New York's 18th Congressional District. Nan Hayworth will be making a special appearance headlining a Maggie's List event September 17th, hosted at the home of the Honorable Georgette Mosbacher.
"Maggie's List is an exceptional organization that has stood by me since the 2010 elections," said Representative Hayworth. "Electing more women to Congress who share a commitment to smart and strong national security and the responsible stewardship of taxpayer dollars will allow our economy to flourish for every American." Hayworth continues, "I'm honored to be endorsed early in the campaign cycle and I'm thrilled to headline this exciting event in New York."
"Nan Hayworth is a proven candidate who has experience in the United State House of Representatives when she represented the 19th District in 2010-2012. Following redistricting, her election to the 18th District can help put an end to the overspending and encroachment of personal freedoms rampant in the Obama administration. Nan delivers a potent combination of fiscal conservatism, less government, more personal responsibility and strong national security that we look for in national caliber candidates. She has all the right ingredients for victory," says Sandra B. Mortham, Chairman of Maggie's List and former Florida Secretary of State.
According to the Center for American Women and Politics at Rutgers University, women comprise over 56% of all voters, but less than 20% of representation at the Congressional level. A mere 293 women have ever served in the United States Congress. Four states have never elected a woman to the U.S. House of Representatives or U.S. Senate. Maggie's List was founded to address these inequities and improve representation of fiscally conservative women.
To attend this event, please contact Sentinel Strategic Advisors, LLC at info(at)sentinelstrategic(dot)com or (202) 680-8840.
About Maggie's List
Maggie's List is a federal PAC created to raise awareness and funds to increase the number of conservative women elected to federal public office. Since 2010, this group of dedicated women have had an outstanding record for endorsing successful candidates for United States Senate and U.S. House of Representatives. Maggie's List supports women candidates who stand for fiscal conservatism, less government, more personal responsibility and strong national security. For more information about our candidate recruitment or endorsement process, please visit http://www.maggieslist.org.