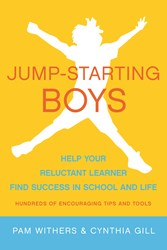 (PRWEB) September 14, 2013
For more than 50 years, Kumon's after-school academic enrichment program has helped children achieve success worldwide. To launch the Bay Area tour for her new book, Jump-Starting Boys: Help Your Reluctant Learn Find Success in School and Life, Pam Withers will be speaking at Kumon Campbell East on September 16th from 6-7pm.
About the Kumon Campbell
Richard J. Chin was a "Kumon Dad" and is now the owner and instructor at Kumon Campbell. Rich is very community oriented, volunteering for the Inner City Youth at Risk Program in NYC with Outward Bound, specializing in outdoor adventures and life skills for teens. Rich has also taught college seminars and mentored students at UCLA in engineering while an international executive for Advanced Micro Devices. ecoming a Kumon Instructor enables Rich Chin to combine two of his passions in life - mentoring young people and giving back to the community. In his own words, "I want to help these children so they can make a difference in their lifetime."
What people are saying about Jump-Starting Boys:
"This book makes an impact that will unlock potential, ignite passion and motivate both parents and boys toward success and satisfaction. I enthusiastically recommend it." —Judy Ford, bestselling author of Wonderful Ways to Love a Child and Every Day Love
"Pam Withers and Cynthia Gill have bottled so much wonderful reassurance, advice and practical wisdom into this informative gem of a book that really will help you turn your struggling child's life around." —Dr. John Duffy, forewordist and author of The Available Parent: Radical Optimism for Raising Teens and Tweens
Jump-Starting Boys is also now available as an audiobook!
Pam Withers is the best-selling, award-nominated author of more than a dozen adventure novels particularly popular with teen boys. They include Peak Survival, Skater Stuntboys and Vertical Limits. She lives in Vancouver.