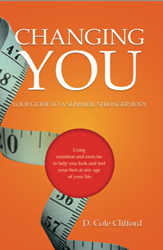 Prince George, British Columbia (PRWEB) September 16, 2013
Gurus that push six day ripped abs, debilitating cleanses and other miracle weight loss solutions are completely missing the mark, says fitness coach Cole Clifford. In "Changing You: Your Guide to a Slimmer, Stronger Body", Clifford outlines methods that encourage weight normalization, which is the point where an individual achieves his or her healthiest body. Clifford can speak to many trending weight loss topics, including:

Visualization as part of a weight loss program
The delicate timing of hunger
Futile fad diets
Reversing the muscle loss / fat gain spiral
Eating for function, not for fun
Fitness and its importance in the aging process
Clifford understands that full body change takes time so the guide advocates concise but essential nutritional facts and exercise habits that readers can integrate into their everyday life.
"Over the past 20 years I've learned that decisions based on solid principles lead clients to their best chance of success," Clifford says. "Therefore, the book is a comprehensive source that helps readers integrate these principles into their everyday lives."
For more information, visit http://www.coleclifford.com.
"Changing You: Your Guide to a Slimmer, Stronger Body"
By Cole Clifford
ISBN: 978-1-47970-047-9
Available in softcover, hardcover, ebook
Available on Amazon, Barnes & Noble and XLibris
About the author
Cole Clifford holds degrees in mathematics and education and taught high school for two years. After winning the Canadian national rowing championship and coaching two high school champion crews of his own, Clifford opened a gymnasium in Burns Lake. For more than 20 years, Clifford has been refining the book while remaining updated on nutritional science, running his own gym, and coaching clients on weight loss.